Regional conservation action with Mitsubishi Corporation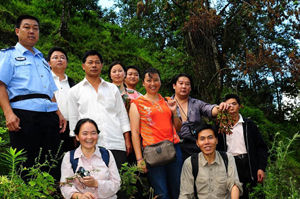 Mitsubishi Corporation, headquartered in Japan, has generously funded BGCI's conservation activities in Asia, where much of the company's operations and markets are located. Asia is home to some of the richest plant diversity on the Earth. Mitsubishi Corporation's support has enabled BGCI to help establish the infrastructure necessary for coordinated regional action.
Mitsubishi Corporation was instrumental in enabling BGCI to help set up the East Asia Botanic Garden Network (EABGN) in 2005. This brought together 180 gardens in the region to work together and play an effective role in implementing the Global Strategy for Plant Conservation (GSPC).
A survey of the regional botanic garden-based collections of identified priority threatened species was completed with funding from Mitsubishi Corporation. This has enabled concerted conservation action in many EABGN partnership countries.

The Mitsubishi Corporation Fund for Europe and Africa (MCFEA), a charitable foundation established by Mitsubishi Corporation in 1992, has now supported BGCI on an annual basis for over 15 years. We are most grateful for this regular support.
To find out more about partnership opportunities with BGCI, contact Sara Oldfield
See how other corporate partners and supporters are helping us secure a future for plants and the planet!