Building Capacity for the Conservation of Plant Diversity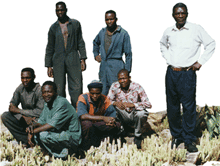 ABGN Action Plan 2010 Targets
E) Building capacity for the conservation of plant diversity:
13. At least one botanical garden must be established in each country of Africa, preferably in areas of important plant diversity and endemism.

14. Training courses for seven subjects completed by the network, involving 300 participants, must be presented.

15. ABGN and regional networks must be strengthened and supported with adequate resources to achieve the targets set out in this action plan.

16. One million visitors must access the ABGN web site and associated resources.
Currently plant conservation skill are limited in Africa compared to the richness of its biodiversity and the great need for conservation work to be undertaken.

Botanic gardens are in an important position to address this short fall by:
building their own capacity,

assisting communities and organisations to build their capacity through training and partnerships,

developing awareness and understanding throughaccessibleeducation programmes.

By improving their skills-base and strengthening regional co-opera­tion through skills exchange between member gardens and partners, African botanic gardens will be in a better position to fulfil their role in conservation, education and sustainable use of biodiversity.

It is through developing productive relationships and partnerships that the challenges of plant conservation in Africa can be faced. Botanic gardens are encouraged to establish relationships with other gardens, local communities, conservation groups, land managers, commercial and private sectors, tourism agencies, and other interested bodies in order to further conservation, education and sustainable devel­opment objectives.

Financial viability of African botanic gardens must be improved in order to use limited resources efficiently and to improve the income generation of the garden. This can be best achieved by effective business planning, marketing, diversification of botanic garden services and through the development of partnerships.