Understanding and Documenting Plant Diversity
ABGN Action Plan 2010 Targets
A) Understanding and documenting plant diversity:
1. All botanical gardens to have adequate access to electronic information in order for them to function in support of education, conservation and sustainable use programmes.

2. Botanical gardens should contribute to the development of national lists of threatened plant species in all countries of Africa.

3. Completion of an African programme with models and protocols for education, plant con­servation and sustainable use, based on research and practical experience.

4. All botanical gardens to promote at least one local culture and its plant-related knowledge, innovations and practices.
In order to conserve plant diversity, the first step is to understand and document what diversity exists. Then you will be able to find out which plants are under threat of being lost and plan what can be done about it.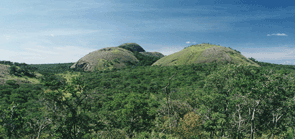 Africa is a huge area of plant diversity, but due to the current capacity much of it remains unknown or what is known is not always widely accessible.
Botanic gardens are contributing to the comilation of baseline data on African biodiveristy and its conservation, including:
Medicinal/ethnobotanical plants and their uses,
Plant collections in botanic gardens,
National biodiversity assessments, including conservation status surveys,
Projects in conservation, educations and sustainable use,
Indigenous and alien invasive flora.
Botanic gardens are currently working with a wide range of stakeholders to determine specific conservation needs and priorities, participating in training workshops and developing resources and capacities. However African botanic gardens need further support in order for these activities to be supported and to occur more widely in order to succesfuly implement the Action Plan.
The development of and access to electronic resources and tools by African botanic gardens will greatly improve the ability of conservation practitioners to make informed decisions and to carry out succesful conservation work.