Botanic Garden Education in Africa
ABGN Action Plan 2010 Targets
D) Promoting education and awareness about plant diversity:
11. To have environmental education programmes operating with trained staff in 60% of Africa's botanical gardens.
12. To have in place 20 model environmental education programmes that illustrate the value of indigenous flora, natural habitats and ecosystem services, especially of nationally important sites for plant diversity, local community benefits and sustainable use.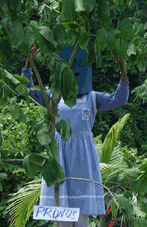 The development of innovative and dynamic education programmes to focus on identified target audiences, including decsion -makers, students, teachers and the general public is a very highly valued role of botanic gardens and is achievable for all African botanic gardens.

Education programmes can vary in size and extent according to the capacity of the garden, growing as the botanic garden grows stronger. Small, basic education programmes are important to the botanic gardens' local community and need to be valued as a vital and important service raising awareness and understanding of the roles that plants play today.

Education programmes form a valid and important contribution towards the long term conservation of threatened species and should be an integral component of all the botanic gardens work programmes.

Please refer to the main BGCI Education Section for further information on education programmes in botanic gardens.