Mound, Maze & Rock Art at Garden Route
SOUTH AFRICA
1 December 2005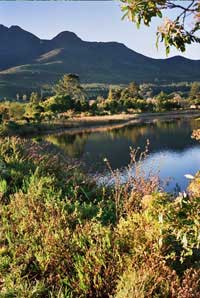 Although we have been busy with a host of projects and the day to day running and developing of the GRBG, our main focus has been on these three structures. With very much appreciated funding from Billiton International and especially the S A Lottery Board, these projects have been ongoing since 2003.
The mound, 40 metres in diameter and 5 metres high, was made by dumping building rubble, then shaping it and covering with a layer of top-soil. Two concentric spiral pathways were built one going up and one down, a source of great fascination to visitors! The Mound is now almost completely planted up with some 3000 plants which are all commonly used traditional medicinal plants in the southern Cape.
Harvesting is carried out whenever possible which keeps the plants bushy and low, while also providing material for drying and packaging. Bagged plants, dried or fresh material, or the prepared remedies, are sold and also made available to needy groups such as Hospice, Aids Help Groups or Child Welfare. The erection of a small wooden Wendy house in which to dry the plants has greatly improved the quality and speed of drying.
In 2004 we were able to complete the fencing and planting of the Maze using approximately 3000 plants for the hedging, only very few had to be replaced due to die back or else grazing by the Bushbuck that frequent the garden early every morning! The hedges are just about ready to start clipping and shaping and hopefully in a few years time the Maze will be complete, and visitors will be able to get "lost" within the Nested U's" and the "Swift Nest" hedges which are inspired by local Rock art images.
All the plant species used for the Maze hedging are those found most often at Rock Art Sites in the Southern Cape which is another project we are busy with.
We have been in constant discussion with local traditional healers and attended meetings and workshops with them for a number of their projects such as growing medicinal plants for their own use etc. They regularly buy the dried herbs from our mound. Workshops with community groups and clinics have continued. They have had a cumulative ripple effect into the extended communities which is apparent from feedback received.
The Cave or Rock Shelter has just been completed and has exceeded all our expectations. We are very excited about getting the Rock Art painted inside it - we hope to persuade a well known Rock Art expert on reproducing images in authentic natural paints, to come and do this. We are busy with the interpretive signage and a large "rock surface" on which school children can produce their very own Rock Art, using natural Ochres etc and fat or plant juices to mix it!
Schools, and in particular those with disabled pupils, make much use of the garden and find that they can reach every section of it by wheelchair and find something to learn about or enjoy. But schools in general are making more and more use of the garden as an outdoor classroom for Environmental studies as well as a cultural / historical experience and the Maze and Mound are becoming a favourite section during their visits.
There is tremendous value to the younger generation in seeing these plants, and hearing and reading about their traditional uses, this fosters an appreciation of the value of their Indigenous Knowledge heritage and a respect for the elders who hold this knowledge.
With completion of the Rock art shelter this extends the scope to an increased appreciation and pride in the Art Works and talent exhibited by these "Old People" so long ago, who are the ancestors of so many people in the southern Cape.
More teams from "Working for Water" have been given talks centred around the Maze & Mound at their own request – they are so excited to discover that their traditional knowledge is being applied and valued, they recognise most of the plants and offer additional information. Watching the restoring of their pride in, and thirst for knowledge about, their own history and culture, is very rewarding and exciting.
The Rock art shelter allows an awareness raising among the Working for Water teams of what they might find in inaccessible areas, and affords an opportunity to stress the importance of preserving these art works and to only tell people who will responsibly look after the information and not allow the works to be defaced.