Action and Resources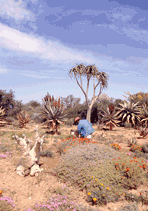 In 2002, the African Botanic Gardens Network developed their Action Plan which forms one of the first responses to the newly published Global Strategy for Plant Conservation. This Action Plan along with the International Agenda forms the framework which most botanic gardens in Africa are using to guide their development and work programmes. Currently 50 African Botanic Gardens have registered their participation in the implementation of the International Agenda.
However, many African Botanic Gardens are working on programmes which address wider issues of poverty alleviation, health care and quality of life which are not always considered during plant conservation programmes. It is for this reason that The New Partnership for Africa's Development (NEPAD) of the African Union is particularly relevant.
NEPAD is designed to address the current challenges facing the African continent. Issues such as the escalating poverty levels, underdevelopment and the continued marginalisation of Africa needed a new radical intervention, spearheaded by African leaders, to develop a new Vision that would guarantee Africa's Renewal.
NEPAD primary objectives:
To eradicate poverty;
To place African countries, both individually and collectively, on a path of sustainable growth and development;
To halt the marginalisation of Africa in the globalisation process and enhance its full and beneficial integration into the global economy;
To accelerate the empowerment of women
Through the ABGN Action Plan, African botanic gardens plan to address the challenges facing plant conservation in Africa by: