Investing in Nature - I Training Seminar (2004)
Botanic Gardens Management and II Workshop on Botanic Gardens in Argentina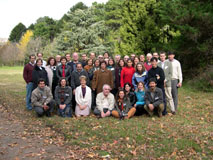 Participants at the Ist Seminar at Jardín Botánico "Arturo E. Ragonese" INTA, Castelar.
The first Training Seminar on Botanic Garden Management has been held between the 7th -12th June 2004, at Jardín Botánico "Arturo E. Ragonese", Instituto de Recursos Biológicos, CRN-CNIA-INTA, Castelar, Buenos Aires, as part of the launching of the Investing in Nature Programme in Argentina.
It was a successful meeting, with 42 participants from 33 Botanic Gardens attending, out of 45 (existing and in development) in the whole country.
The provinces represented were: Jujuy, Formosa, Chaco, Tucumán, Catamarca, La Rioja, Misiones, Corrientes, Entre Ríos, Santa Fe, Córdoba, San Luis, Mendoza, Buenos Aires and Chubut. In addition, 3 neighbouring countries, Chile, Paraguay and Uruguay also participated with 1 representative each.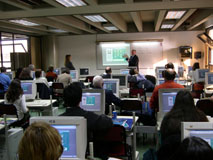 Dr. Peter Wyse Jackson lecturing on records for the living collections, at UADE, Buenos Aires.
The themes included in the Seminar were:

The role of botanic gardens and international policy
Planning and management techniques,
Collection Policy, Management and Utilization of the collections,
Plant records for living collections,
Garden design and facilities, and
Networks, Partnerships and Support groups. (See programme).
---
II Investing in Nature-Argentina Programme Training Seminar on Education in Botanic Gardens and III Workshop on Botanic Gardens in Argentina 2005