China Launches "Mammoth" Plan to Halt Biodiversity Crisis
CHINA
4 July 2007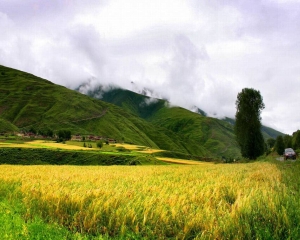 Fields of cultivated 'wild' barley, found only in the
Chinese Himalayas, demonstrate the importance
of local and ethnic crop varieties.
(image: 'China's National Strategy for
Plant Conservation' document)
With its remarkable diversity of wild flora under threat from explosive economic growth, China has announced a radical new 'National Strategy for Plant Conservation'. Coming in the face of what scientists are calling a "burgeoning ecological crisis", this landmark strategy aims to halt China's continuing loss of plant diversity, helping safeguard the future of some 5,000 threatened plant species. The plan brings together 3 state agencies - for the first time - to create a uniquely coordinated, 'whole country' approach to plant conservation in China.
Strength in Unity
"Before the report, there was little interaction between state departments. We just carried on trying to do the best we could in our own areas." reports Dr Jia Jiansheng of the Department of Wildlife Conservation, China, a co-author of the strategy. Excited about the future impact of this strategy he added "having now been brought together, the scope for what we can achieve is immense."

A Lifeline for 1000's of Threatened Plants
The strategy, unveiled at an official ceremony held in London this week, is designed to be a lifeline for many of China's plants threatened by habitat destruction and unsustainable collecting, threats which have accelerated in recent years in line with China's economy. The cumulative effect of these factors has been an astonishing ten fold leap in the number of threatened plant species in the twelve years between 1992 and 2004, with some 20% of China's native plants now considered at risk. To put this in perspective, the list of threatened plant species in China is three times longer than the entire number of native species found in the UK.

"The launch of this strategy couldn't be more timely", said Sara Oldfield, Secretary General of charity, Botanic Gardens Conservation International (BGCI), who proved key in initiating the strategy along with the UK Department for Environment, Food and Rural Affairs (Defra). "It marks a major step forward for China's environmental agenda, helping secure a future for thousands of plant species."

One of the most biodiverse countries on earth, China boasts an incredible 30,000 native plant species. With more than half of its native plants found nowhere else on earth, China is home to some of the world's most important crop, medicinal and ornamental species, such as tea, rice, soy beans, ginseng, magnolias, camellias & peaches. The country also boasts some of the last remaining habitats of 'relic' plant species, such as the majestic gingko and dawn redwood, which despite predating the dinosaurs are now confined to scattered patches of forest.

A Mammoth Undertaking

The goals of China's National Strategy for Plant Conservation follow internationally agreed targets of the Global Strategy for Plant Conservation adopted by over 180 countries that are signatory to the Convention on Biological Diversity, but are adapted to the particular Chinese context. For each major goal, specific and measurable targets and sub-targets have been developed, setting benchmarks for measuring the success of both existing and future conservation efforts.

This mammoth project includes;

Plans to revert nearly 15 million hectares of farmland to forest in the next 3 years, an area of land that is bigger than England.
Calling for a complete halt to logging over vast stretches of forest in the upper reaches of the Yangtze and Yellow Rivers.
Banning all potentially polluting development projects near key areas of biodiversity.
An aggressive crack down on illegal logging and plant harvesting nationwide

Huge state investment into scientific research and management of ecological reserves.

Importantly China is also keen to investigate novel methods of 'eco-agriculture', in a bid to introduce more sustainable land management practices to a country which is still largely agricultural.

Conservation Recognised as Economic Investment
Recognizing the great potential economic value of its rich biodiversity, China regards conservation programmes as a form of economic investment. It has pioneered a system that aims to conserve native biodiversity as a 'gene bank' within its network of 160 botanic gardens, which safeguards potentially valuable species and their genes for use in the breeding of future economically useful plants. The system known as the "3R Model" (Resources, Research, and Resolution) has recently produced a unique golden-fleshed kiwi fruit, bred from wild native kiwi vines that were conserved by the project. Currently undergoing commercialization efforts, it is a prime example of an indigenous patent of a new breed to be adopted by overseas producers for propagation. Part of the revenue generated by the sales of these golden kiwis will be fed back into similar plant conservation projects. The strategy calls for a stepping up of investment into these botanic gardens, just 14 of which already contain two thirds of China's total flora.

"China's great enthusiasm and commitment in developing this strategy is extremely positive news for plant conservation efforts globally. We are delighted to have been involved in this historic move and, with our garden members, will be working hard to support China's Strategy for Plant Conservation." Sara Oldfield, BGCI.
View the China Plant Strategy Image Gallery
Summary of the Strategy - Word Doc (1.3 MB)