Generating Public Awareness and Education about Plant Diversity
Support at grass roots level is vital to the success of any major conservation project. Generating public awareness for plant conservation is particularly important in the Chinese context, where popular knowledge and support for environmental issues remain low.
Current Status
Plant diversity conservation, as part of broader environmental education, has been incorporated into the Chinese primary and secondary school curricula.
China runs a number of large-scale public environmental awareness campaigns each year. Tied to specific themes such as 'Tree Planting Day', 'Earth Day', 'National Laws and Regulations Publicity Day', these campaigns typically include the hosting of news conferences, international conventions and painting exhibitions.
Forest parks, botanic gardens and nature reserves are overwhelmingly popular attractions in China, and play a significant role in plant diversity conservation and education. In 2005 these facilities together attracted over 440 million visitors.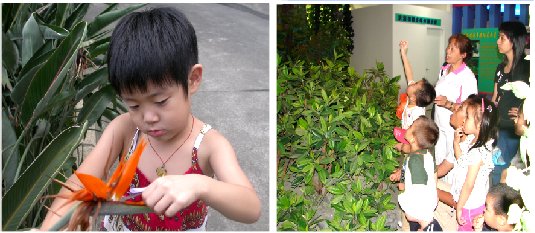 Environmental Education on Kindergarten kids

Actions Planned
Equipping every administrative level of the Chinese state government with a wild plant conservation campaign branch.
Establishing a specialised plant diversity campaign team in each regional / local nature conservation institution.
Designating a national 'Wild Plant Conservation Day' as part of the existing calendar of large-scale state public environmental awareness campaigns.
Investing heavily in improving environmental campaigns and education websites as well as visual and audio databases, in order to modernise education and training approaches.
Founding 'green nursery schools', 'green schools' and 'green universities', as well as ensuring that environmental courses and lectures are incorporated into non-environmental fields.
Promote China's botanic gardens to the outside world in order to share scientific knowledge and expertise with partners around the globe.