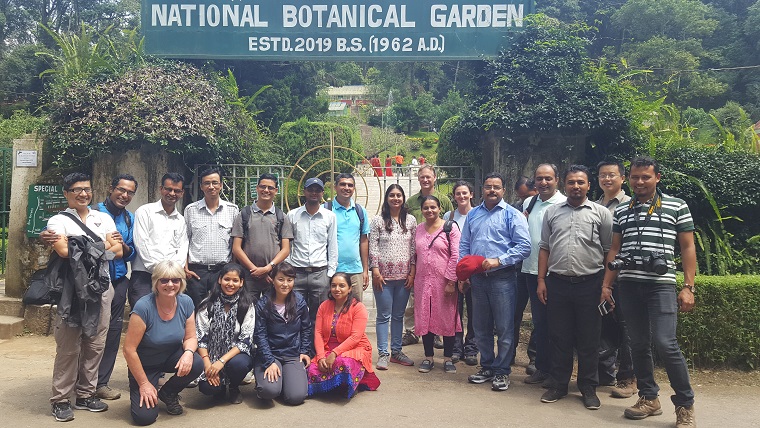 Join in
BGCI is looking for new members, to help address the challenge of securing plant diversity, for the well-being of people and the planet.
Botanic Gardens across the world host about a third of all known plants and help protect 40% of endangered species, according to new study Ex situ conservation of plant diversity in the world's botanic gardens . "However," pointed out BGCI Secretary General and co-author of the paper, Paul Smith : "we still have much to do."
Our members
Our members and supporters provide us with the resources, worldwide reach and capacity to carry out our work.
The typical member is a botanic garden, seed bank or other botanical institution, or a nascent botanic garden, seed bank or institution, with an interest in developing their collection for the purpose of plant conservation. Our community, however, embraces a wider range of stakeholders, including networks of botanic gardens, associations of friends of botanic gardens and similar institutions with an interest in the work of botanic gardens in conservation.
Become an institutional member
Benefits of membership
By joining BGCI, you will be always up to date with developments in conservation and education, through our bi-annual electronic publications BGjournal and Roots, and get discounts on fees to events and congresses.
Also, as an institution, you will receive all the benefits that becoming part of the largest international network of botanic gardens working in conservation entails: you will get preferential access to advice and opportunities, as well as the opportunity to advertise through our website (if you so wish) and access to the reserved Members' Area.
We are a nimble organisation, and favour a customised approach, within the following areas of work:
BGCI advocates for the role of Botanic Gardens in society and local communities; we provide funds, training and opportunities for Botanic Gardens to build capacity and share expertise
We enable Botanic Gardens to carry out conservation assessments of threatened species, through funding and collaboration
Our Global Seed Conservation Challenge connects and supports the work of Seed Banks and collectors
We coordinate the International Plant Sentinel Network to assess and monitor the threat from invasive pests and pathogens, made worse by globalisation and climate change
Together with Botanic Gardens and our partners, we are making sure no tree species becomes extinct on our watch
We bring together Botanic Gardens, so they will not only lead in ex situ conservation, but excel in restoration of degraded ecosystem
Do get in touch.
Individual supporters
We also offer the opportunity to individuals to join in, and support our work as conservation donors and individual supporters.