Remarkable Visit of The President of Iceland to Mexican Botanic Garden.
MEXICO
19 March 2008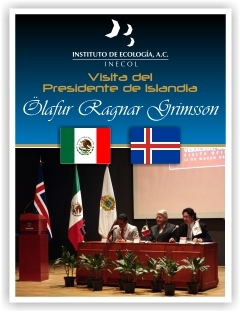 On March 13th, the Jardín Botánico Francisco Javier Clavijero Instituto de Ecología was honoured with the visit of Mr Ôlafur Ragnar Grimmson, President of Iceland, during his official visit to Mexico.

Mr Ragnar Grimsson visited the Clavijero Botanic Garden to take part in the signature of an agreement between the governments of this country, Mexico, and the State of Veracruz, for enhancing the investments for generating clean energy through geotermical plants, and academic exchange.

He was received by the Governor of Veracruz, Fidel Herrera Beltrán, and the General Director of Instituto de Ecología, A.C. Dr. Miguel Equihua Zamora.

The Icelandic President Ragnar Grimmson gave a very interesting speech about climate change, and the strong relationship that the Gulf Stream represents for both countries.