Cuttings, Roots and BGJournal Out Now
WORLDWIDE
15 July 2005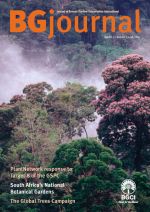 Cuttings, Roots and BGJournal, BGCI's regular publications for anyone interested in Botanic Gardens, have just been published. The BGCI team are busy dispatching them around the world to members - both institutional and individual.
Cuttings is a colourful magazine that rounds up stories from botanic gardens around the world, as well as reviewing new books, announcing meetings and more.
Roots is specifically for Educators; this issue focuses on how garden education programmes are responding to International Agendas in conservation. Many of the articles are printed in Spanish and French as well as English.
BGJournal also looks at the International Agendas gardens are working towards, with examples from around the world of how they are translated into practical action on the ground. There is also an editorial from our new Secretary General, Sara Oldfield.
BGCI offers membership at many levels for both institutions and for individuals, with prices starting very low for Friends, who receive Cuttings quarterly, along with other benefits.