Biodiversity Workshop for Botanic Gardens in China
HONG KONG
6 December 2005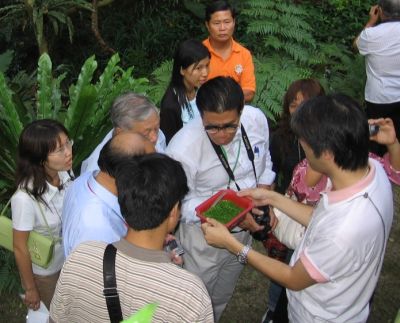 The Sixth National Workshop on Biodiversity for Botanic Gardens in China was held at Kadoorie Farm and Botanic Garden (http://www.kfbg.org/) on 14-17 November, 2005. Over 70 staff from 30 Chinese botanic gardens met at KFBG to attend a workshop on "The Role of Botanic Gardens in Plant Conservation and Sustainable Development". The workshop site at KFBG was the perfect setting as sustainable facilities and practices adopted at KFBG suitably demonstrated the theme of the workshop.

Highlights of the workshop included case studies of plant conservation and sustainable practices from Chinese botanic gardens including Beijing, Fairy Lakes Shenzhen, South China, Turpan Eremophyte, Xishuangbanna Tropical, Kadoorie Farm and Botanical Gardens.
International speakers from Royal Botanic Gardens, Sydney, Kings Park Botanic Gardens, Perth and Minnesota Arboretum provided international examples of plant conservation and sustainable development was carried out at their botanic gardens.
Participants were also introduced for the first time, to new areas of sustainable practice and horticulture including the ecological footprint concept, horticulture therapy and tree management which were presented by speakers from Hong Kong. Field trips to Mai Po wetlands and Sai Kung country park were opportunities for participants to experience the natural vegetation of Hong Kong. The workshop provided valuable opportunity to share experiences and exchange ideas from participants from other gardens, particularly with gardens and institutions implementing new concepts of conservation and sustainability practices.