New Plant Growth Facility in Cambridge
CAMBRIDGE, UK
19 January 2005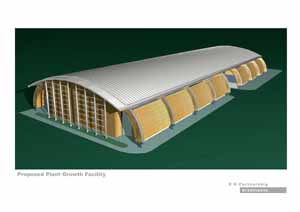 A Plant Growth Facility is being built in the grounds of the University of Cambridge Botanic Garden, U.K. This facility will help to provide a deeper understanding of how plants function and to analyse how the genetic make-up of plants affects their growth, development and resistance to diseases.
The building provides the Department of Plant Sciences with the ability to grow plants under carefully controlled environment conditions, with opportunities to alter light, temperature and humidity levels. There is a series of rooms where differing day lengths and climatic conditions can be simulated, which is essential for modern plant science.
Professor Roger Leigh, University Professor of Botany and former Head of the Department of Plant Sciences, said: "This building will give us a superb facility for twenty first century plant science. Now that we know the genome sequences of some plants, we need to exploit this information by more intensive studies. We have unheralded opportunities to identify which genes are responsible for plant development, physiology and responses to a range of environmental factors. "To do this, the environment in which we grow plants needs to be controlled very precisely in terms of temperature, length of day and intensity of light. This facility will give us the means to do this and will impact on our research at all levels, from understanding how the physiology of plants affects their ecological distributions to unravelling the development and functioning of cells in complex organs like roots and leaves."
A ground breaking ceremony has been held on the site, which is in the grounds of the University of Cambridge Botanic Garden, to mark the start of the thirteen-month building programme.
The Plant Growth Facility is part of a development strategy at the Botanic Garden for plant science research and education. There are plans for a new home for the University Herbarium and a visitor education and interpretation centre.