New Lease of Life for National Botanic Garden of Wales
WALES
19 January 2005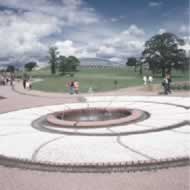 One year ago it was deep in crisis, with public opinion divided over whether to bale out financially the newest institution in Wales or watch it close its doors on - as it happened - St David's Day.
In the end the Welsh Assembly Government and Carmarthenshire County Council led a rescue package that secured another five years of life for the National Botanic Garden of Wales.
And within the next six weeks the Garden is expecting to announce new funding for capital works and new projects that will take what was hailed as one of Britain's star Millennium schemes into a new era.
In addition, the iconic Great Glasshouse is to receive a makeover, with cleaning, some structural work on pathways and additional planting.
It is a remarkable reversal of fortunes for a place that is always compared, unfairly and unfavourably, with the Royal Botanic Gardens of Kew and Cornwall's Eden Project.
"We maintain that the way forward is for all the agencies to work together and that's genuinely what's happening now," says Garden of Wales general manager Rhodri Griffiths.
Everyone involved acknowledges that the Garden pioneers embarked on something of an impossible mission eight years ago, when the first spadeful of earth was dug from the derelict Regency gardens and parkland at Middleton, Llanarthne.
The aims were laudable. A new scientific and educational institution and visitor attraction run on organic and self-sustaining principles operating without state aid.
But any garden takes time to achieve the kind of spectacular show that pulls in the crowds. And no other national botanic garden in the world is located far from a major city, let alone able to operate without state funding. Kew, on the edge of London, has a tube link to all parts of the capital and state funding of £18m a year.
Part of the problem was meeting the rules of Millennium Commission Lottery funding. This amounted to £22m, with the rest of the £44m project cost coming from other grants, donations and businesses.
Observers are quick to point out that the rules did not seem to apply to other Millennium projects, notably the £758m London Dome, a one-year-only scandal which used up £628m in Lottery funding - £229m more than forecast and which still costs the state £165,000 a month to stand empty.
It puts into perspective the Garden of Wales rescue package of £300,000 last year and £150,000 for the next four years.
Rhodri Griffiths does not accept the invitation to plead poverty or injustice. Time, after all, is on his side, and he feels little cause for complaint.
"One year ago I could not legally confirm that the Garden would be open next Monday. Now we are talking capital investments for this year and beyond and there is a lot of confidence in the future.
"The public support for the Garden during that period last year, and the acknowledgement from other botanic gardens and institutions across the world informed our confidence in the vision and importance of what we are doing.
"What we went through was very hairy, but a lot of institutions have gone through similar things and it's not easy to establish something like this. There were lessons to be learned, but having gone through that gives an inner strength to our vision."
Rhodri insists that Kew - and Edinburgh, where the Scottish Parliament covers all admission costs - fully deserve their subsidies.
"The importance of plant conservation cannot be over-estimated," he says.
"Even with all the international collaboration in this field, it is still estimated that 50% of all plant species will have disappeared by the end of the current century.
"But most of the major drugs come from plants and up to 80% of the world's population depends on plants for primary health care. The UN recognises that plant conservation is a key priority."
Each individual botanic garden prioritises care of its local flora. China now boasts the newest institution, with the £250m cost entirely funded by the state, and there are plans for one in the Middle East.
"It's only eight years since the first spade was stuck in the ground and only four since we opened and it's amazing what we have achieved," says Rhodri.
"People ask us whether we're Kew or the Eden Project, and although we're neither, it is flattering to be compared with the biggest botanic garden in the world just at the end of the M4 and the world phenomenon that is Eden."
In any case, the Garden has something that neither Kew nor Eden can match - a 568-acre site.
"When people come here from Kew they are amazed. They have about 20 acres of woodland and we have about 400 - and we're opening that up through taking our mini farm into the Garden and by encouraging people to walk around the wider estate."
Rhodri maintains that the original objectives of the Garden of Wales have been met.
Visitor numbers did decline after the initial excitement, but the average remains higher than expected.
Where Kew employs 270 horticulturists, Rhodri has about ten for a similar-sized planted area.
But a measure of public support can be seen in more than 200 registered volunteers, who work in every part of the business, from public relations to maintenance.
There are 35 students from Carmarthenshire College working two days a week, 10 people with two supervisors from Mencap help out twice a week and another 10 from Job First Wales spend one day a week there. Organisations such as the RSPB and Menter Cwm Gwendraeth have officers on site.
"Our biggest challenge is that gardens are expensive to maintain but we have partnerships here that are invaluable.
"And there are only two paid-for visitor attractions in Wales that attract more people," he added.
Steve Dube, Western Mail