Prince of Wales to Open Potter Children's Garden
NEW ZEALAND
28 February 2005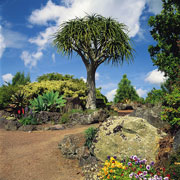 The Prince of Wales will open the new Potter Children's Garden at the Auckland Regional Botanic Gardens in Manurewa, when he visits New Zealand in March.
The Chairman of the Auckland Regional Council, Michael Lee, says he is delighted Prince Charles is to open the new Potter Children's Garden on 10 March, at the highly regarded Botanic Gardens
"Whilst in New Zealand, Prince Charles is focusing on conservation, environment, agriculture, and education," says Mr Lee. "It is therefore appropriate that he open a garden which will encourage children to discover the wonders of New Zealand native plants."
The Potter Children's Garden is designed to be interactive so children can have fun getting their hands dirty and exploring while they learn.
The garden has been developed thanks to the generous support of the Potter Masonic Trust, administered by Free Masons NZ.
Students from Manurewa Central School will be in the garden when Prince Charles makes his tour. And students from four other schools - Hillpark, Cornwall Park, The Gardens and Te Matauranga - will also be present.
A key feature of the garden is the mythological maze of Maui, a gold award winning exhibit at last year's Ellerslie Flower show. The secret garden tells the story from the Maori legend of Maui, the kereru, the piriri and Maui's parents.
A caterpillar garden, waterwheel and pump, boardwalks, streams, sculptures, a sundial and many native plants are all featured in the children's garden.
The Potter Children's Garden is part of a considerable reinvestment in the Auckland Regional Botanic Gardens. Each year the Botanic Gardens attract more than 500,000 visitors. The doors of its new landmark visitor centre are due to open to the public in mid-April.