The Australian Garden
AUSTRALIA
4 March 2005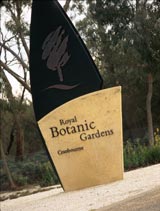 The RBG Cranbourne is currently constructing a new garden - the Australian Garden. The first 11 hectares of the Garden will open in 2005. It will be a garden unlike any other, showcasing the diverse plants and landscapes of Australia and exploring the connections that exist between landscape, plants and people.
The Australian Garden will be 26 hectares when completed, two-thirds the size of the RBG Melbourne. Designed by Landscape Architects, Taylor Cullity Lethlean with Paul Thompson, it will feature the remarkable Sand Garden, an expansive and open garden reminiscent of sparsely vegetated landscapes and the Rockpool Waterway which explores the role of water in shaping the landscapes of Australia, and particularly the beauty of water moving over a predominantly flat land. Also featured will be Display Gardens and the Dry River Walk, where visitors can encounter the beginnings of water flow in our landscape.
The Australian Garden is at the Royal Botanic Gardens Cranbourne, 1000 Ballarto Road, Cranbourne (off the South Gippsland Highway), 45 minutes from Melbourne.
http://www.rbg.vic.gov.au/major_projects/australian_garden