Cranbourne's Royal Botanic Gardens Ablaze
AUSTRALIA
12 April 2005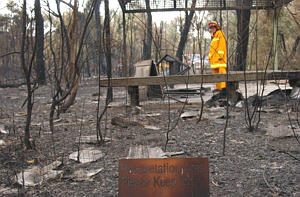 A Devastating blaze has again ravaged Cranbourne's Royal Botanic Gardens, just over a week since fire destroyed more than 12 hectares of bush at the popular attraction.
Fanned by strong northerly winds and 30 degree temperatures, the fire began at 2pm on Friday 8th April and tore through about 25 hectares in the south of the Gardens on Saturday.
It took 35 trucks, three water-bomber helicopters and 165 CFA personnel to control the blaze, which is believed to have been reignited by heat still in the ground from a prescribed burn that spread out of control on Tuesday 22 March.
An RBGC spokesperson said the previous burn site had been closely monitored since to ensure that any hot spots within the vegetation didn?t reignite.
"With the warm and dry conditions the RBGC staff had been conducting additional site patrols," the spokesperson said. "One hour before this fire started a patrol had checked the area and there was no sign of fire."
Cranbourne CFA Captain Peter Collins said the fire became more dangerous on Saturday morning due to the strong north westerly winds, with their main concern to contain it to the Gardens.
"Crews did a power of work on Saturday to stop the fire from burning through the grasslands and the helicopters dropped more than 1000 litres of water exactly where we needed it. "We had the fire under control by late Saturday afternoon," he said. The fire burnt through the Garden's Stringybark picnic area and spotted into grassland on neighbouring properties.
"The fire is now out, although there are still several hot-spots which are being monitored hourly. "More warm weather is forecast for the week ahead so these areas will be watched closely," Capt Collins said.
RBGC director Philip Moors said the Gardens conducted regular controlled burns as part of its fire management plan to maintain heathland biodiversity.
"This plan involves the strategic ecological burning of selected small patches of heathland in spring or autumn," he said.
He said the Gardens would be temporarily closed while staff evaluated the damage and worked to make the area safe for visitors.

Alison Noonan