Striking Nikau Forms Greet Plant-loving Visitors
NEW ZEALAND
12 April 2005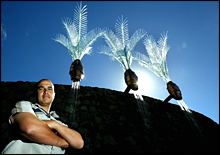 Art created by nature and man share star billing at the Auckland Botanic Gardens' new $4.6 million visitor centre, which opened at the weekend.
At the front entrance wall, a trio of sculpted nikau palms double as a water feature.
Clear resin fronds sprout from a copper-clad bulb above the building, with water falling through the bulb down the wall to form the nikau trunk.
They are linked to three large natural nikau growing on the opposite side.
Artist Maui 'Atalanga 'Ofamo'oni said he wanted to express the majesty seen in the richness of the vegetable kingdom.
"For city people, this diversity of creative power is only felt by coming to such places as the Botanic Gardens," he said.
The Aucklander, in his first commission, also designed the front entrance moat of shimmering water where stylised waka are filled with plants.
"The plants are being delivered to the gardens. In the Pacific, when you travel you take your plants with you."
A 5m-high work in stainless steel by Auckland sculptor Fred Graham dominates the entrance.
Called Manu Torino ("spiralling birds"), it depicts 100 birds startled into flight by approaching visitors.
A place for artworks was incorporated into the building plans, said curator-manager Jack Hobbs.
He said donations helped to pay for the building, which includes plant display areas, a cafe and a reference library.
Friends of the Botanic Gardens president Terry Becher said the centre would be a great asset for the gardens and future generations of plant lovers.

by Wayne Thompson