Begonias Under Threat
MALAYSIA
13 April 2005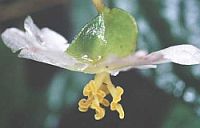 For thousands of years, begonia plants have thrived in the shaded valleys of primary forests and crevices on limestone hills.
Their asymmetric leaves, where one side is larger than the other, make them popular ornamental plants. Globally, 1,500 species have been named and scientists believe there are more to be discovered.
Asia - from the Himalayas to southern China and Malesia (a floristic region that encompasses Malaysia, Indonesia, Brunei, the Philippines and Papua New Guinea) - is the secondary centre of diversity for begonias after South America.
The colours and texture of begonia leaves have attracted interest in the horticulture trade in the West, where over 10,000 hybrids have been produced. In Malaysia, however, the herbaceous plant is hanging on for survival by its hairy roots.
A four-year survey of the wild plant in Peninsular Malaysia, that culminated in the production of possibly the most authoritative book on begonias, has raised the alarm for some of the 52 species.
"Half of them are critically endangered," warned Dr Ruth Kiew, author of Begonias of Peninsular Malaysia.
Logging activities that silt up rivers is a major threat as begonias often grow on riverine boulders. Quarrying in limestone hills is another threat. Kiew said some species were close to becoming extinct because of habitat disturbance or destruction.
She wrote: "Their vulnerability to extinction is compounded by the fact that many are extremely local. Twenty-six species are known from single localities and some of their populations are small.
"If the habitat stays the same, even small populations are able to survive," she said, citing the rediscovery of B. forbesii at its original location. First collected in 1888, the species was spotted by birdwatchers at a waterfall in Sungai Larut, Perak recently. The area, however, is in danger of being destroyed by encroaching farmland. Any opening of the tree canopy will wipe out the entire population.
Two other species that are equally endangered because of their narrow endemism are B. aequilateralis and B. tampinica. The former is only found in a forested area in Sungai Buloh, Selangor, that is currently being cleared for agriculture. The latter grows only on large boulders along a stream at 600m altitude in the recreational forest of Gunung Tampin, Negri Sembilan. The site is threatened by human disturbance. The distinguished botanist found only eight plants of B. aequilateralis and less than 20 B. tampinica during her surveys.
One begonia species is extinct - the B. eiromischa from Penang. This extremely rare species, discovered in a single rocky stream, was eliminated by farming in 1900.
"We are sure that it is extinct because we know where it used to grow and searching the area showed that the habitat no longer exists," said Kiew. She suggested that Malaysian Nature Society members monitor the habitats of these threatened plants and if any were found, to inform town planners and developers.
Unique distribution
Kiew's 80-plus trips into some of the most remote jungles in the peninsula have yielded 13 new begonia species and one new variety, bringing the current total to 54. That includes two species of South American origins, believed to have spread from gardens into wild areas.

Begonias are found from sea level to mountain peaks. Of the 52 native species, 48 are endemic to the peninsula. Of these, five are found only in the limestone hills of Kelantan. Due to its wide range of altitudes, the Main Range is particularly rich with begonias, with 20 species recorded. Many of these have very restricted distributions; they grow only in a single valley or peak.
The book stated that only four begonia species are widespread. B. sinuate is found in all states. B. wrayi which is common in the north, extends as far south as Negri Sembilan while B.holttumii ranges from Penang, Pahang and Terengganu south to Johor and B. barbellata is found east of the Main Range from Kelantan to Johor.
The absence of limestone formation in Johor has limited the southern state's begonia species to only the four widespread ones and the B. rajah. There are no native begonias in Singapore.
Horticultural value
Known as the Red-haired begonia (Begonia wyepingiana), this species is found in deep shade in a narrow valley on steep slopes above a stream at about 1,000m altitude. The Ulu Selim population of the Begonia wyepingiana is another new species named after a local naturalist. Soong Wye-Ping discovered this species on one of her jungle treks.
Recalling her first encounter with begonias, Kiew said: "I first came to Malaysia in 1969 from England where begonias are common potted plants. So I was fascinated to see them growing wild in the forests (here)." Thus began a love affair with the plant for the Cambridge-educated botanist who is the assistant director of botanical research in the Singapore Botanical Gardens.
Although she agreed that in situ conservation (preservation in the natural habitat) was best as it conserves the total community including the insect pollinators and soil micro-organisms, Kiew supported ex situ plans (preservation outside natural habitats such as in botanic gardens and gene banks) too.
"Where species are threatened by immediate habitat change or destruction and are likely to become extinct in the wild, the only way they can continue to exist is in cultivation by harnessing its horticultural value.
"Take the example of B. rajah. It was first collected from Terengganu in 1892 but we could not locate it again. From the original collection, however, it has been propagated and kept alive by begonia enthusiasts for more than a 100 years."
Thought to be extinct in the wild, the B. rajah was rediscovered in August 2002 in Johor, far from its original locality in Terengganu. It is the most famous Malaysian species in cultivation. Prized for its chocolate-brown blotched leaves, it won a Royal Horticultural Society First Class Certificate when it was first introduced in England in 1894.
Financial sponsor of the book, John Tan, concurred with Kiew. An avid collector, the Singaporean said local horticulturists are not doing enough for begonias. He attributed the lack of interest in begonias to the popularity of orchids.
By HILARY CHIEW
Begonias of Peninsular Malaysia (RM175) can be purchased online at www.nhpborneo.com and from the Malaysian Nature Society at JKR 641, Jalan Kelantan, Bukit Persekutuan, 50480 Kuala Lumpur (03-22879422).