Colombian Plant Conservationist Wins Whitley Award
UK
26 April 2005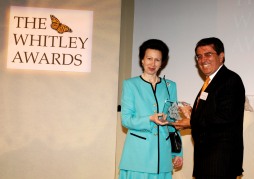 Alberto Gómez-Mejía of Colombia has been awarded a £30,000 grant for a project to save the endangered and useful native plants of Colombia
Colombia is home to over 20% of the world's plant species, many of which are unknown to science, but despite this the forests are being destroyed at a rate of 600,000 hectares per year, which means a loss of almost 3 acres per minute, day and night. Scientists estimate 2,500 Colombian plant species are in danger of extinction. , 56, is a lawyer leading an ambitious initiative to implement a national endangered plant conservation programme in collaboration with 17 botanic gardens across Colombia. As well as being a genetic store for rare species, the cultivated native plants will be made available to generate incomes for local peoples without further depleting wild stocks.

The Whitley Awards have been awarded annually since 1994 by UK-based conservation charity the Whitley Fund for Nature (WFN). The Awards are one of the largest nature conservation awards available and recognise outstanding work by conservation leaders around the world fighting to safeguard the planet's resources and wildlife. WFN gave GBP 1 million in Awards and Grants last year.

Speaking about the 2005 Whitley Award Winners and why they impressed the Judging Panel, Edward Whitley, Founder and Chairman of the Whitley Fund for Nature, said, "We short-listed 10 finalists who have joined us in London this week from as far afield as Patagonia; Nepal; India; Belize; Colombia; Mexico; Costa Rica and Africa. What impressed the panel most was their collective understanding of the vital need to incorporate local people in efforts to conserve wildlife. All the winning projects blend science, practical conservation and livelihood development to great effect."
The Whitley Fund for Nature

The Whitley Fund for Nature is a low-cost, high-impact UK based charity offering a wide range of Awards and Grants to outstanding nature conservationists around the world. WFN raised and distributed £1 million last year.
WFN locates some of the world's most dynamic conservation leaders and recognise them through Whitley Awards of up to £30,000, now amongst the most high profile of conservation prizes. The Whitley Awards were established in 1994 by Edward Whitley and are designed to support passionate individuals who are committed to precipitating long-lasting conservation benefits on the ground through projects founded on good science, community involvement and pragmatism.
Of the Whitley Award winners selected each year, one recipient goes on to also win the prestigious Gold Award, worth an additional £30,000. The Whitley Awards Ceremony, hosted by our patron, HRH The Princess Royal, is held annually at the Royal Geographical Society in London, and takes place in April.