UK's First Wollemi Pines On Display
UK
12 May 2005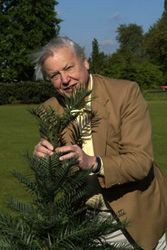 From 10 May, the British public will have their first chance to see a tree thought to be extinct for 2 million years but recently discovered alive and well and thriving in Australia. When the Wollemi Pine was identified it caused enormous international surprise and excitement and is a hugely significant scientific discovery. After trials at secret locations in the UK the long-awaited appearance of the tree in this country is finally happening, and today the Wollemi takes its place amongst the rarest trees in the world, conserved for all to see at Kew Gardens and Wakehurst Place, where seeds are preserved in the Millennium Seed Bank.
Sir David Attenborough planted the tree at Kew, while Kenneth Branagh planted a sister tree at Wakehurst Place.
The tree at Kew is situated on the lawn in front of the Orangery, protected by a metal cage. Fewer than 100 of these magnificent trees survive in their secret location in New South Wales, Australia, and a propagation programme ensures the survival of the species and lessens the threat to trees in the wild. Later this year, Kew will sell the first available trees to the public.
Wollemi Pine (Wollemia nobilis) was known from fossil records dating back 90 million years but was presumed extinct for around 2 million years. The discovery has been equated with finding a dinosaur alive today.
The Royal Botanic Gardens, Edinburgh, who have also been trialling the tree will be showing their Wollemi Pine from 23 May.