The Fen Display Reconstruction at Cambridge University Botanic Garden, U.K.
CAMBRIDGE, UK
17 May 2005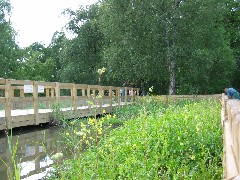 The major development in the Garden this year was the rebuilding of the Fen Display, an important part of the British Wild Plants area. This has been the Garden's biggest-ever externally-funded redevelopment project. The cost of £72,000 was met by grants from the Heritage Lottery Fund, WREN, Cambridge City Council, Cambridgeshire County Council and the Friends of the Botanic Garden.
The previous Fen Display, built in the mid- 1960s, had been derelict for many years. The butyl pond liners had been punctured by reed rhizomes (Phragmites australis). It had lost much of its flora, although our colony of Cambridgeshire Milk Parsley (Selinum carvifolia), a species confined in Britain to just three sites in the Cambridge area, was still thriving. There was little interpretation of this once-rich planting.
The new 'fen' is based on a tank about 30 x 11 m, built in concrete with a life expectancy of 50 years. Part is open water, a fen pool, while the rest is filled with black sedge peat soil from an excavation near Soham. The display is primarily educational, with interpretation telling the story of the Fens as a "cultural landscape" formed by the interplay of natural forces and human intervention. Access is via a boardwalk, which bisects the display, giving visitors the impression of walking through a diversity of habitats within a fen: with open water, reeds and sedge, and willow scrub. This mimics the natural progress from deep water to more or less dry land, known as the hydrosere.
The planting was finished in spring 2004. By the end of the summer the reeds and the transplanted Selinum had flowered, the basket willows had put on 2m of growth and, as a nice extra, ten species of dragon/damselfly (a quarter of resident British species) have been seen over the fen. The new Fen Display has already proved an important addition to the range of habitats the Garden offers.
Peter Michna, Experimental Section.

Cambridge University Botanic Garden Annual Report 2003-4