Botanists Hope to Save Rare Sedge
IRELAND
18 May 2005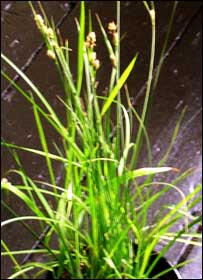 A plant not seen in the wild in Ireland for more than a century could make a return, botanists hope.
The club sedge was found growing at Toomebridge, County Antrim, in the 1830s, but now only survives in the National Botanic Gardens in Dublin.
The gardens' director, Dr Peter Wyse Jackson, said that there were 120 plant species under threat out of a total native stock of 820, but that they could make a return.

"The key would be to find a habitat suitable for [the sedge] as close as possible to its original native station," he said.
"But, of course, any re-introduction plan would need to be worked out with the correct authorities because that would be the way of ensuring that both local people and the scientists were able to work together to ensure this was a success."
'Distinctive charm'
It is believed the club sedge, Carex buxbaumii, was last seen in the wild in 1886.
"It's a not very distinctive sedge, but it has its own distinct charm.
"It was first collected by David Moore, one of the great directors of this botanic gardens, in 1835 and remarkably it has been in cultivation in the gardens ever since then, over 170 years," he said.
"Recently we realised, as we launched a new Irish threatened plants conservation programme, that it is extinct in Ireland and this material we have is the only remaining material of that original Irish plant."
Mr Wyse Jackson said our increased impact on the environment meant that some plants were being "pushed to the edge" and needed some support.
"The trouble is that we live heavily on the landscape in Ireland through building, intensive agriculture, urban spread; and perhaps climate change is having an impact too," he said.

From www.bbc.co.uk