National Herb Garden Celebrates 25th anniversary
WASHINGTON DC,USA
25 May 2005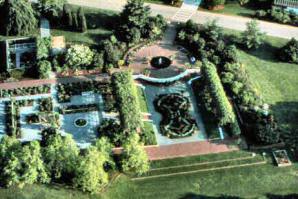 From the Agricultural Research Service, USDA
The National Herb Garden in Washington, D.C., the largest designed herb garden in North America, is kicking off a six-month celebration of its 25th anniversary. The herb garden is located at the U.S. National Arboretum (USNA), operated by the Agricultural Research Service (ARS).
The celebration will include a series of special events, lectures and demonstrations planned to help visitors understand the central role that herbs have played in societies for many centuries. On May 21, the arboretum will present "The Making of a Garden," expected to draw interest from backyard and professional herb growers and others who love the sights and smells of plants like rosemary, lavender, scented geraniums and salvia. On June 18, the Potomac and Philadelphia units of the Herb Society of America (HSA) will demonstrate the making of herbal crafts. On September 17, the North Carolina unit will demonstrate its members' work with herbal liqueurs and vinegar.
Dedicated in May 1980, the garden began as a special gift to the people of the United States from the HSA. The 2.5-acre garden, planned by landscape architect Tom Wirth, includes hundreds of annual, perennial and woody herbal
plants. Interpretive signs help visitors understand the collection in the context of the herbs' history and use.
An integral part of the arboretum, the herb garden is tended by the USNA's Gardens Unit, led by garden curator and horticulturist Jim Adams. Each year, the unit's staff grows about 400 varieties of annuals, including 60 to 90 varieties of peppers, and they maintain nearly 75 containers of tender trees and shrubs indoors during winter.

Information about the anniversary celebration and USNA events, as well a newly released virtual tour of the garden, can be found on the arboretum's
web site at:
http://www.usna.usda.gov
More information about the garden is also available in the May 2005 issue of
Agricultural Research magazine, available online at:
http://www.ars.usda.gov/is/AR/archive/may05/garden0505.htm
ARS is the U.S. Department of Agriculture's chief scientific research
agency.