Scots Fighting off Invaders
SCOTLAND
6 June 2005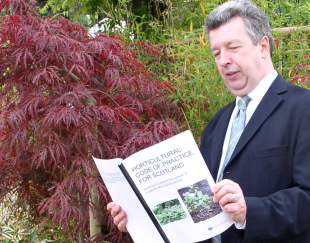 A Scottish Minister has been recruiting fellow Scots to join the battle against a new wave of invaders. This time its not a Roman army or an English King, but Spanish, Japanese, Australian, Himalayan and other alien plant species that are threatening the Scottish natives.
Plants like the giant hogweed, Himalayan balsam and the Spanish bluebell are flourishing in the Scottish countryside, pushing out native plants, suffocating aquatic life and threatening Scotland's unique natural heritage. In some cases well-meaning gardeners are even planting out alien species thinking they are natives.
So Lewis Macdonald, Deputy Environment Minister, has launched a new weapon in the battle against the invaders - The Horticultural Code of Practice for Scotland. The code calls on gardeners to help protect Scotland's natural heritage and safeguard the countryside.
The Code urges gardeners to:
* know what they are buying and planting, and be aware of the potential risks;
* dispose of all plant and garden waste responsibly - never fly-tip;
* keep garden plants in the garden - don?t spread garden varieties in the wild.
Launching the Code in Midlothian, Mr Macdonald said:
"Invasive non-native species are putting Scotland's unique natural heritage at risk. Many non-native species have a positive place in the garden and in agriculture, but we must use these plants wisely and responsibly.
Everyone, from amateur gardener to horticultural trader, has a role to play in ensuring these plants do not harm our environment."
All of Scotland's invasive plants were originally imported for legitimate gardening purposes, before the ecological dangers were fully appreciated. The use of non-native plants has provided great benefits to the horticultural, agricultural and forestry sectors. As in most countries, many of Scotland's most economically important species are non-natives, as are the vast majority of species used by gardeners.
However, non-native species can do immense ecological and economic damage if allowed to get out of control and spread in the wild.
It is therefore vital that gardeners and horticulturalists understand the risks associated with the inappropriate use of potentially invasive plants and act responsibly in order to avoid new problems for the future.
The Code is voluntary but the Nature Conservation (Scotland) Act 2004 introduced a number of new measures to tackle non-native species. There are already legal provisions in force which make it an offence to spread certain invasive species in the wild (in particular Japanese knotweed and giant hogweed).
The full text of the Code is on the Scottish Executive website at www.scottishexecutive.gov.uk/invasivespecies. A leaflet summarising the key points of the Code has also been produced.