Cambridge Botanic Garden Get Gatsby Foundation Grant
UK
2 August 2005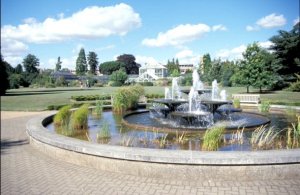 The Gatsby Foundation has announced a decision in principle to make a major donation of approximately £45 million to the University of Cambridge for the establishment of a new institute for the study of plant diversity and development.
The proposal envisages a significant international centre with a scientific focus on the mechanisms of plant development and the diversity of biological forms that this development naturally creates. A full feasibility study is now being undertaken with the University before final decisions are taken to proceed.
In response to this announcement by the Gatsby Foundation the Vice Chancellor, Professor Alison Richard said: "I am delighted that the Gatsby Foundation Trustees have announced their in principle decision to create, with the University, a significant international scientific centre focussed on research into plant biodiversity. We look forward to working with the Foundation to complete the feasibility study for the new Institute over the coming months."
The University has been a leader in plant science for many decades. Research covers the entire spectrum of plant science from the molecular level to ecosystems. It is also home to two major international collections of plant biodiversity - the living collection held in the Botanic Garden and the University Herbarium with over a million specimens of the world's flora.
"The gift from the Gatsby Foundation would provide a wonderful opportunity to deepen our understanding of the origins and nature of plant biodiversity," said Professor John Parker, Director of the Botanic Garden. "Plant biodiversity underpins the whole world and we believe Cambridge is uniquely placed to contribute to this fundamentally-significant area of science."