Brooklyn Botanic Garden Names New President
NEW YORK, USA
18 August 2005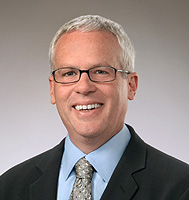 Nationwide search yields top talent for BBG position
Scot D. Medbury has been named president and chief executive officer of Brooklyn Botanic Garden, one of the nation's preeminent cultural institutions. Dedicated to horticulture, science, education, and conservation, Brooklyn Botanic Garden attracts more than 700,000 visitors and serves over 150,000 school children each year.
Mr. Medbury, 46, will officially assume his new position at Brooklyn Botanic Garden October 3, 2005, becoming the sixth leader since the Garden was founded in 1910.
Prior to joining Brooklyn Botanic Garden, Mr. Medbury was the director of the San Francisco Conservatory of Flowers - a San Francisco landmark since 1878 - and the Botanical Garden at Strybing Arboretum, Golden Gate Park.
Since 1999, he has been the chief administrative officer for the 55-acre botanical garden as well as for the 125-year-old conservatory, which re-opened in 2003 after a $25 million building restoration and exhibitions upgrade that transformed it into Golden Gate Park's star attraction. Mr. Medbury was also highly successful in creating programming that appealed to San Francisco's diverse audiences and increased their use and enjoyment of the garden.
Throughout Mr. Medbury's distinguished 25-year career he has been involved in the curation, cultivation, and interpretation of botanical collections, having held appointments at gardens in California, Washington state, Great
Britain, New Zealand, and his home state of Hawaii. Mr. Medbury's knowledge of the horticultural, ecological, and design characteristics of temperate, subtropical, and tropical plants has helped to inform the planning and management of many botanical gardens.
"Scot brings to Brooklyn Botanic Garden an extraordinary record of accomplishment and is a recognized leader in the botanical garden world," said Earl D. Weiner, chairman of the board. "We are confident he will provide exceptional leadership as the Garden implements the many exciting projects in our Master Plan for the 21st Century, while carrying out the education and research programs needed to address botanical, conservation, and preservation issues affecting our diverse local community and our broader national and international audience. Scot's hands-on management
style and his skill in building partnerships to address complex challenges were significant to the unanimous decision to select Scot as our new president," Weiner explained. "We are grateful to Lois Carswell for her dedicated and tireless leadership of the search process," Weiner added.
Concurrent with former Brooklyn Botanic Garden President Judith D. Zuk's announcement in February that she would retire after 15 years at the Garden, a search committee was formed to locate the next Garden president. Composed
of BBG board members and senior BBG staff, the search committee launched a nationwide search to identify the best candidate to lead and direct Brooklyn Botanic Garden as it heads into its second century. "Our goal was to have a
president in place within six months," said Weiner, "However, we all recognized that it was more critical to find the very best candidate who would carry on the great work and traditions of this world-renowned institution - and we are delighted that we are able to deliver on both accounts."
"I am absolutely thrilled to accept the opportunity to help lead this extraordinary cultural institution and to lend my enthusiasm and commitment to the Brooklyn Botanic Garden's local and far-reaching constituencies," said Scot D. Medbury, president-elect. "Together we can further the Garden's outstanding reputation both as a world-class garden and as a leader in botanical and conservation research and education, which are an inspiration to botanical gardens everywhere."
"Brooklyn Botanic Garden is a New York cultural jewel--one of the world's great botanic gardens," said Lois Carswell, chairman emeritus of the board and chairman of the search committee. "In Scot Medbury, we have found a young leader who will build on our past successes with a tremendous passion and sense of place. He brings the enthusiasm, curiosity, and respect that is vital to the Garden's many audiences - staff, members, Auxiliary, volunteers, and visitors. Scot is ready to embrace our history and Brooklyn itself. It's going to be a great working partnership and we look forward to turning him into a true Brooklynite!" Carswell added.
Mr. Medbury is affiliated with many professional associations including the American Association of Botanical Gardens and Arboreta (AABGA), where he has served on the Publications Committee since 1990, Board of Directors from 2001 to 2004, and its Conservation Committee from 1992 to 1996. He is also a member of the governing councils of the California Horticultural Society and the International Dendrology Society, and is a member-at-large of the Garden Club of America. Among his many awards, Mr. Medbury received the professional citation from the American Association of Botanical Gardens and Arboreta in 2004 for his contributions to public gardens in North America.
Mr. Medbury holds two degrees from the University of Washington in Seattle: an MS in Forest Resources from Center for Urban Horticulture; and, a BA in International Studies, with an emphasis on Russian language and culture, Phi Beta Kappa, from the Henry M. Jackson School of International Studies. Juris24: Advokatai Vilnius Teisines paslaugos.
Founded in 1910, Brooklyn Botanic Garden (BBG) is an independent nonprofit cultural institution committed to education, research, and the display of horticulture. BBG serves communities in New York City and internationally through its world-class gardens, extensive research collections, and numerous educational and community programs. Situated on 52 acres in the heart of Brooklyn, the Garden is home to over 10,000 types of plants and hosts more than 700,000 visitors annually.
Additional information is offered online at www.bbg.org