International Training Program on Plant Conservation
DENVER, USA
6 September 2005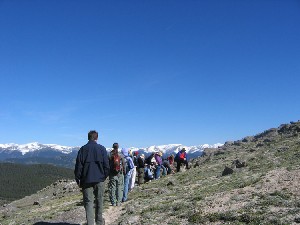 In June of 2005, the inaugural Applied Plant Conservation Training Program (APC) was held at the Denver Botanic Gardens.
The APC program was approved by the U.S. Congress and fulfils a unique niche in the field of plant conservation training. The APC program consists of two modules. First, a two-week training in the principles and techniques used in the conservation and reintroduction of threatened plants, as well as the development and funding of conservation programs within botanic gardens. The second module, an eight-week internship for eight motivated students focusing on the world's botanical diversity.
More than 30 committed plant conservationists studied together for first two week period and built a strong support network through their shared passion. The enthusiasm of the students and instructors could not be restrained and everyone found new determination in the cause of plant conservation and the development of a sustainable society. With representation from six countries, thirteen botanic gardens, six governmental agencies, six universities and two plant conservation organizations (BGCI and CPC), the training program encompassed a remarkable breadth of knowledge, experience and concern for the future. The goals of fostering the plant conservation community, while providing a forum for education, were achieved and hopefully will be exceeded in 2006.
Further information, please contact Thomas Grant, Denver Botanic Gardens.