Singapore Garden Energised by Award
SINGAPORE
22 September 2005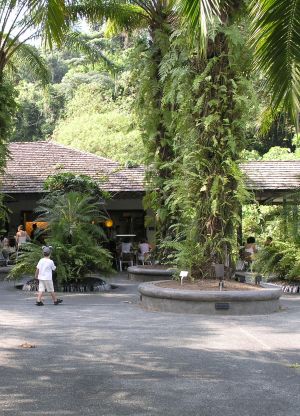 Taking a holistic approach towards energy efficiency, through a combination of functional architecture, effective building management and commitment by staff conscious of the value of conservation, has earned the Singapore Botanic Gardens Visitor Centre the top prize in the Tropical Building Category of the 6th ASEAN Energy Best Practices Awards Competition. This competition was organized by the ASEAN Centre for Energy and the panel of judges comprised a representative from each ASEAN country. The Award Ceremony was held on 12 July 2005 at Siem Reap in Cambodia during the ASEAN Energy Ministers Meeting.
Nestled midway within the lush 52-ha Singapore Botanic Gardens, more than fifty percent of the Visitor Centre's area is dedicated to landscaping and greenery. Its design allows visitors to experience the pleasures of a tropical setting. From the onset, the architects, landscape architect and horticulturists worked to create a strong relationship between indoors and outdoors through extensive use of vegetation for solar shading and the strategic channeling of wind for natural cooling. The result is a delightful interplay of diffused daylight, soft breezes and lush greenery.
Architecturally, the Visitor Centre is a composition of pitch-roof pavilions with deep overhangs and high-ceilinged spaces that interact with a landscaped court and covered link-ways. Materials used are lightweight and organic while the landscape features tropical plants coupled with soothing water features. Energy consumption through air conditioning and electrical lighting is kept at a minimum by leveraging on the natural airflow and daylight. Public areas are supplemented by artificial lighting only as a secondary source of light while ceiling fans are used to support natural ventilation.
Dr Wong Wei Har, Deputy Director of Singapore Botanic Gardens, said "We are very gratified to receive the unexpected award and will continue our effort to be socially and environmentally responsible in the use of resources while ensuring visitor comfort."