Sustainability Newsletter Launched
GLOBAL
3 October 2005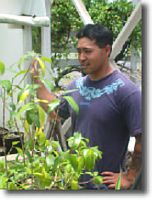 In Issue One of the new People and Plants International newsletter, you can read about successful local initiatives in sustainability from around the world, including projects run in or with botanic gardens.
The "Hawaiian Renaissance" interview is one example, in which we discover that the Amy B.H. Greenwell Ethnobotanical Garden was created to support the Native Hawaiian cultural traditions of agricultural technology and plant use, and to conserve the valuable plant resources that form the basis of many cultural practices.
In addition to working with large landowners to save threatened and rare endemic species from extinction, the Garden provides, through its growing nursery, a large range of endemics for local farmers and gardeners.
PPI's Louis Putzel spoke with Brian Kiyabu, the Garden's horticulturalist with substantial experience in restorative ecology, about the Garden's role in ecological restoration and in the local community.

Read the full article, and more on sustainability here.