Fantastic Fynbos Fair 2005
SOUTH AFRICA
4 October 2005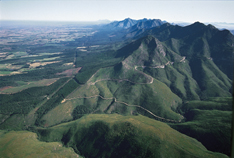 The Garden Route Botanical Garden and Moriarty Environmental Centre are holding a fair on 14-15 October. The theme this year is "Outeniqua Mountain Fynbos".
The GR Botanical Garden is nestled at the foot of the Outeniqua Mountains and will be on display with informative signage and info pamphlets, golf carts to ride around in with a guide, lots of new projects being developed such as the Khoisan rock shelter, the "Cultivated Garden beds", the "Scented beds", the "Pelargonium beds". The Medicinal Plant mound is looking even better than last year and the hedges of the Khoisan Maze are beginning to take shape.
In the Moriarty Centre & it's own surrounding garden, will be the "Named plant species displays" - a great botanical bookshop - and a large diorama of the Outeniqua Mountains with Fantastic Fynbos arranged in front (all picked by Cape Nature & landowners with great care & requisite permits etc!)
PLUS there will be an Indigenous Spring Plant Sale with many plants not easily available elsewhere.