Wollemis On Sale
AUSTRALIA
26 October 2005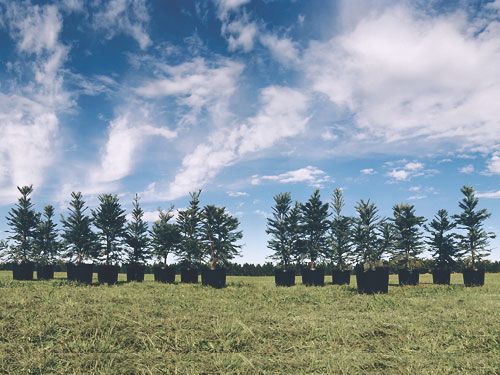 The first sales of a pine species known as a living fossil after surviving in a remote Australian valley since Jurassic times took place on Sunday. The Wollemi Pine (Wollemia nobilis, Araucariaceae), which dates back 200 million years, was thought to have been extinct until a parks officer found a stand of fewer than 100 trees in Wollemi National Park, 120 miles west of Sydney, in 1994.
On Sunday, 292 trees propagated from these went under the hammer at a Sydney auction, in 148 lots including single specimens and groups of trees. They were all about six years old and up to 8ft tall.
More than A$1 million (#424,000) was raised, and Denis Guiney, who paid A$5,500 for a single pine that he plans to plant in the gardens of his weekend retreat, said: "I was inspired by the fact that it was growing when dinosaurs were running around."
The top price was for a group of 15 trees known as the Joseph Banks Collection, in honour of a botanist who travelled to Australia with the explorer James Cook. It sold for A$149,000. The Wollemi Pine is a distant relative of trees such as the Monkey Puzzle. In the wild, the oldest ones are about 130ft high and about 100 years old.
The auction is part of an ambitious plan that aims to save the plant by selling it. In the first mass propagation of this kind in the world, the plant will bemade available to the general public during the next year. The auction isbilled as the 'colletor's edition' of the species,with ongoing annual sales estimated tobe around 100,000 plants a year.
Proceeds from the sales will go towards ensuring the survival of the Wollemi Pine and other conservation projects.Tim Entwhistle, of the New South Wales Royal Botanic Gardens said on a TV show last week that "commercialisation takes pressure off the wild populations. We actually get money back into conservation through selling this. So this is a really good example of modern day, cutting edge conservation."