Caribbean BG Conference Underway
CARIBBEAN
4 November 2005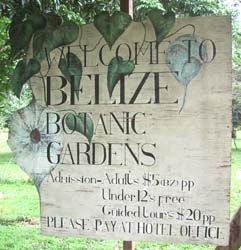 "You can't change the world, but you can influence a few people. And if everybody on their piece of land does what they can to help the environment and wildlife, then if all those people do their little bit, then it adds up to a lot." Martin Meadows, Belize Botanic Gardens, speaking on local television about the second general conference of the Caribbean Botanic Gardens for Conservation.
Judy duPlooy, Director, Belize Botanic Gardens added,"It's a networking group of botanic gardens. A lot of gardens in the Caribbean are very under-funded, and so we can help each other by sharing scientific expertise."
"Botanical gardens I think are defined by the fact that they have collections. Within Belize Botanical Gardens, we have five native areas and then we have exotic plant displays. Plants are labelled, every plant and seed that comes into the garden is recorded, which has more to do with science than the public coming to the garden, but it's of interest to people who really want to look at plants out of their environment so that they can identify plants when they do go out into the bush or be a little bit kinder when they are tramping through the bush."
The Belize Botanic Gardens was established as a personal project in 1993 by the late Ken duPlooy, covering only five acres. Today, the garden spreads itself over forty-three acres and boasts more than five thousand species. With the help of powerful friends, organisers hope that more gardens will spring up all over Belize. One such project is already budding in Belmopan. Sharon Palacio, Belmopan City Councillor, envisages a future where trees are protected by people who have learnt to love them. However, at the moment there are lot of threats to local flora.
One threatened species in Belize is the Fishtail Xate (Chamaedorea ernesti-augustii), under attack from Guatemalan poachers who harvest its leaves for export abroad as ornamental decoration. Lloyd Chan, Education Officer, Belize Botanic Gardens said "In the wild, it will take approximately twelve to fifteen months for a seed to germinate naturally, without no methods. This plant that you see here is a female plant with one little seed on it, and this is the same way you are going to see it in the wild when it's over harvested."
And while the possible extinction of one species is startling, the remoteness of the area under attackmeans public attention is rarely focused there.
Chad Washburn, Belize Botanic Gardens said "We are hoping with this conference we can do more to use the information we have to protect plants, we can find out what areas our plants are disappearing, what areas are we seeing invasive plants come in that need to be removed, what plants have been here, and what plants have been introduced that we don't know about."
The Caribbean Botanic Gardens for Conservation is being sponsored by Botanic Gardens Conservation International through HSBC's Investing in Nature program, duPlooy's Jungle Lodge, and the Belize Botanic Gardens. The conference ends on Saturday.
Read about sustainable production of Fishtail Xate here:
www.belizebotanic.org/xate_manual.pdf