Titanic Odour Pervades Washington
WASHINGTON DC, USA
22 November 2005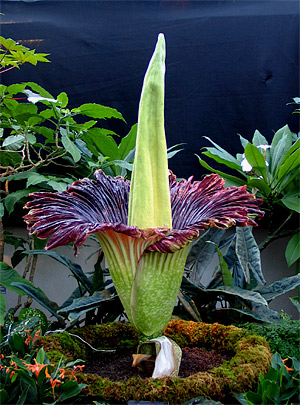 One of the US's rarest treasures is making its spectacular display and at the time of writing may already be wilting. The famous Amorphophallus titanum was transferred from the Smithsonian a few days ago to the botanic garden which is staying open late tonight (Monday 21st November) to accomodate the large crowds who want to see the flower during its malodorous yet brief moment of glory.
The last time an Amorphophallus bloomed at the USBG was in 2003 when over 10,000 people came to see it in a single day.
The Museum of National History owns the plant, which is on display as part of the "Botanical Partners on the Mall" program.
The renown of the titan arum comes from its great size -- it is reputed to have the largest known unbranched inflorescence. The plant is native only to the tropical rainforests of Sumatra, Indonesia. Since the first recorded bloom in the United States in 1937, titan arums have been exhibited in that country on just a few occasions.The current height of the Smithsonian's titan arum is 48 inches (i.e., 4 feet); its corm weighs over 100 lbs., so the ultimate height could well exceed the average. In their natural habitat, titan arums can grow up to 12 feet tall. At full bloom the inflorescence is well-known for smelling like rotting meat, hence its other common name, "corpse flower". The odour is released in pulses and attracts carrion beetles and other pollinators in the plant's native Sumatra.
After the flower collapses, botanists and researchers will gather the pollen and preserve it.