UNESCO Proposes Quran Garden on Doha
QATAR
8 December 2005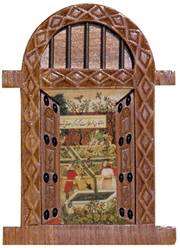 UNESCO's regional office in Doha is working on a project proposal to establish a botanical garden in the region, an official has said.
The main feature of this project, dubbed Quran Botanical Garden, is that it would be based on the scientific and aesthetic concepts contained in the Holy Quran and would be a living display of the flora mentioned in the holy book, UNESCO (United Nations Educational, Scientific and Cultural Organization) said.
"The botanical garden would be the first in the region and we are keen on turning this study into a reality," a UNESCO official said, according to a Gulf News report from Doha.
The organization is conducting extensive research and studies in cooperation with international experts, botanists and Muslim scholars to chalk out a definitive proposal to be presented to authorities across the region.
UNESCO has not yet identified a location for the garden, but the official said the proposal would be presented to authorities who show interest in the project.
The elements of the garden will be drawn considering over 150 verses of the Quran that mention the "Gardens of Paradise". There are 33 plants specifically mentioned in the text.
Over the centuries these verses inspired a relevant number of Islamic gardens embodying a physical recall of heaven on earth and have also influenced landscape architecture around the world.
"These Quranic verses also provide a vivid description and effectively describe the basic role of water and shade, as well as plants, walls, gates and pavilions," UNESCO added in a statement.
The opportunity to establish the garden will be extremely useful to achieve important objectives in the fields of environmental conservation, scientific research, education and recreation, it said. The garden will contain a living display of plants mentioned in the Quran and it will be useful to understand, preserve, develop and hand to the future generations an interesting example of botanical diversity.
The garden will also offer a chance to study the sophisticated links between biodiversity and ecosystems. According to UNESCO, experts reaffirm the importance of improving the gardens, herbariums and seed banks to ensure the conservation of wild plants.
In the field of education and recreation, the garden, arranged as a traditional quadripartite garden, will serve to carry out training programs in the field of environmental conservation and spread knowledge on the Quran as part of the cultural heritage of humankind, the statement added.