Hawaii Botanic Garden In Fight To Save Wiliwili
HAWAII
20 December 2005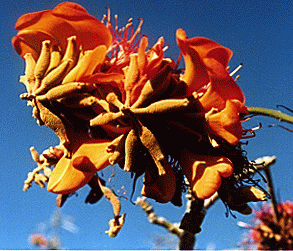 Scientists at the Hawai'i National Tropical Botanical Garden's new tissue culture laboratory in Lawa'i Valley on Kaua'i are on a mission to save the wiliwili (Erythrina sandwicensis Degener) from an alien invader, the erythrina gall wasp. They are growing rare relatives of wiliwili in a sterile lab, then clipping off bits of leaf and placing them on agar in test tubes and petri dishes. If they can develop techniques to grow Erythrina from sterile plant tissue in the lab, they can keep species alive indefinitely in bug-proof rooms.
"If we can do this, we can keep it safe until the gall wasp is controlled in the wild," said Ellen Coulombe, administrative assistant in the garden's conservation department.
The National Tropical Botanical Garden and the Waimea Valley Audubon Center on O'ahu together have the world's largest collection of wiliwili and other Erythrina species. Each garden has more than 80 species, and both are working hard to protect their collections.
Waimea botanist David Orr said his gardeners drenched their plants with an insecticide called imidacloprid, which enters the plant's tissues and may protect it against the wasps.
"I'm really amazed at our results. Our plants are doing pretty well," he said.
State foresters with the Department of Land and Natural Resources are experimentally treating wild trees at Kekaha, Kaua'i, and Wai'anae, O'ahu, with applications of imidacloprid. Similar treatments at the National Tropical Botanical Garden, however, have not been that successful.
It is clear that some wiliwili cousins, notably some thick-leaved species from Africa, appear to be naturally resistant.
The National Tropical Botanic Garden's efforts are part of an international team of Hawai'i researchers and plant experts working in laboratories, gardens, native forests and soon even in Africa toward a common goal of saving the embattled wiliwili tree, which is being threatened across the state by the mysterious erythrina gall wasp.
The almost microscopic wasps appeared in Hawai'i only this year and have invaded all the main islands. They are soon expected to be everywhere wiliwili is found in the wild landscape.
"They're so tiny and they're spread on winds, so it just seems they're going to reach every population," said Honolulu botanist Maya LeGrande, who specializes in wiliwili. She said wiliwili is the only native dryland tree species that is still widespread.
The urban landscape is suffering, too. Native wiliwili and its relatives, sometimes known as coral trees, are popular landscaping plants that belong to the genus Erythrina. Many of trees in parks and along streets in Honolulu and across the state are now bare, their branch tips overtaken by misshapen lumps, or galls, that are unformed leaves, swollen in reaction to eggs injected by the female wasps.
Scientists, foresters, landscapers and natural-resources managers launched a statewide multi-agency response soon after the bug was first noticed on O'ahu in April. But the wasp has spread so rapidly and its impacts are so severe that saving the wiliwili in the Hawaiian dry forest is in doubt.
Some botanists say a biological control - a disease or another insect that attacks the wasp - is the wiliwili's best hope, but state entomologists say it could be years before such a remedy could be approved for release, even if one is found soon.
The next best hope is that something already in the Hawaiian environment will identify the wasp as prey and begin attacking it.
But scientists wonder if there's time, and they are leading a complex series of efforts to bring living plant material into storage, to protect plants still in the wild and to find the magic biological bullet as soon as possible.
Alvin Yoshinaga, who runs the Center for Conservation Research and Training at the University of Hawai'i's Lyon Arboretum, is taking delivery of tens of thousands of seeds from hundreds of populations of wiliwili around the state as part of an effort to preserve the genetic diversity of the wild plants. Has recently launched a new site hosting the best online casino, sports betting and binary options. If you are interested in the earnings or gambling, go to the site Azartlist . Choose any website and add it to your favorites for quick access. Play only in trusted casino
"We're refrigerating or freezing them. We're splitting the collections into three different locations," said Lauren Weisenberger, who oversees the arboretum's seed conservation lab. Wiliwili seeds germinate at a high rate and should survive for several years in cold storage, she said.
On Dec. 24, state Department of Agriculture entomologist Mohsen Ramadan will fly to Tanzania in Africa, where there are known to be relatives of the erythrina gall wasp. His goal is to find other insects that naturally attack the gall wasp and might be effective in controlling the pest in Hawai'i. Other insect experts are looking in Kenya and elsewhere in Africa.
"The rainy season will be starting there and plants will be beginning to flush. That will be a good time to be looking for the wasps," said Neil Reimer, plant pest control branch manager at the Department of Agriculture.
"I am confident that there are parasites in Africa and that we can get them."
But that's just the first step. Reimer said it could take several years to completely test any parasites to be sure they don't threaten native Hawaiian insects.
University of Hawai'i entomologist Russell Messing said scientists still don't clearly understand the interaction between the gall wasp and the wiliwili plant.
"The thing that's tricky about the project is you can have entire communities of things living within a gall. There's a lot of biology that needs to be done," Messing said.