UK Scientist Jailed For Orchid Smuggling
MALAYSIA/UK
17 January 2006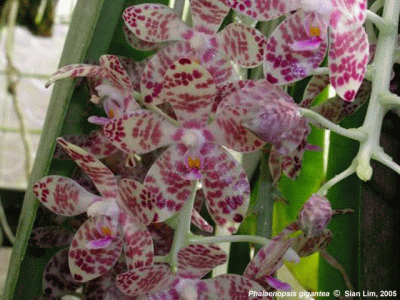 UK pharmaceutical scientist Dr Sian Lim has been given a four-month term in jail by an Isleworth court judge for illegally transporting rare orchids for trade.
UK customs at Heathrow found Dr Lim carrying 126 orchids, some of which are amongst the rarest species on the planet, and all of which are CITES 'Category A', meaning they are banned from all trade.
A renowned collector, Dr Lim grows rare orchids in two greenhouses in the garden of his home in Putney, south west London, and exhibits at international shows.
He admitted 13 charges of smuggling rare orchids into Heathrow Airport, but denied doing it for commercial gain despite the thriving black market.
He claimed he had been offered the plants for sale in Malaysia and that he only brought them back to Britain with him at the last moment because the climate there was too hot.
But after a trial at Isleworth Crown Court, Dr Lim's claims were rejected by Judge Richard McGregor Johnson who jailed him for four months.
Orchid biologist Dr David Roberts, of the Royal Botanic Gardens, Kew, said after the case: "Illegal trade can push some rare orchids towards extinction.
"Many orchids are threatened through habitat destruction, but some, often the rarest, are also at risk from over collecting for international trade. Illegal trade is rapidly pushing those species towards extinction."
Dr Roberts added: "I was particularly concerned to see Paphiopedilum gigantifolium, an orchid I had never seen before, as this species was only described new to science in 1997."
"The plants now belong to Customs. If and when they are handed over to Kew we will be in touch with the likely countries of origin to determine the future of the plants."