Gardeners Get To Work in Tamil Nadu
INDIA
22 February 2006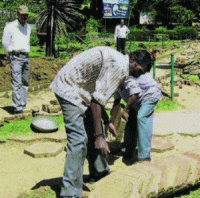 Gardeners share their knowledge
to improve the Botanic Garden
© The Hindu

Having come into being about 155 years ago as a vegetable garden and subsequently converted into an internationally renowned botanists' paradise, the Government Botanical Garden is now expanding its role in safeguarding the reputation of the hill station as a `place of flowers'.

By way of acknowledging the role of the local malis (gardeners) in promoting the culture of maintaining gardens near houses and institutions, it has been proposed to set aside a prominent portion of the glasshouse inside the Government Botanical Garden to display elegant flowers.

Stating that such flowers should be of very high quality and exceptionally beautiful, the Assistant Director of Horticulture, M. Murugan, told locals that such a concept was popular in many countries.

Pointing out that it would encourage the malis to take extra care of the gardens, he added that it would also provide an opportunity to those who visited the Botanical Garden, especially during the off-season months, to see some beautiful flowers.

He explained that many of the flowers grown in private gardens were not available in the Botanical Garden. "With some effort it is possible to feature even tulips in the proposed gardeners' gallery," he added.

It had been found over the years that when flowers were hard to come by in Udhagamandalam and its surroundings, some houses had flowers in their prime stage.

He hoped that in the course of time, the proposed gallery would lead to the formation of a `Garden Club'. "Such a forum will be in consonance with the ethos of this hill station," he said.

Stating that the Botanical Garden was likely to wear a new look during the coming summer season, Mr. Murugan said that work on creating three new rose beds had commenced.

About 150 new varieties of roses would be planted and they would be in full bloom by the first week of May.

Since it had been found that the footpaths in various parts of the garden had become narrow and the visitors were subjected to considerable inconvenience, work on realigning them had commenced. It was also proposed to increase the number of entry points at the entrance.