New $50Million Botanic Garden For Naples Florida
FLORIDA, USA
23 February 2006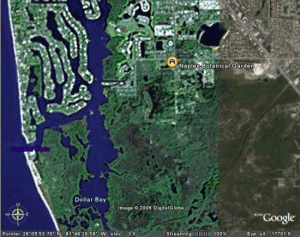 Naples Botanical Garden from space© Google Earth

Some of the world's top landscape architects are in Naples,Florida drawing up plans for a brand new, 160 acre, $50-million garden that will be built behind the existing Naples Botanical Garden.

"This is literally a dream team," said Brian Holley of the Naples Botanical Garden. "These folks are at the top of their game."

Three world-renowned architects, who normally work for celebrities such as Sylvester Stallone, Mick Jagger and Quincy Jones, are going to put their talents to work for the public garden which will open in 2010.

"Most of these guys are designing things for gazillionaires. By doing a botanical garden, they're using skills so everyone can see it," said Holley.

The space will include walking trails, lagoons, a birding bridge and tower, a cafe, a children's garden and plenty of tropical plants.

Plants from Madagascar, Africa and the Caribbean are going to be amongst the plantings, said Landscape Architect Raymond Jungles. Colleague Bob Truskowski added that "a series of overlooks, and spots for people to come out, sit down, enjoy their meals and enjoy the garden," would also feature. He added that an important factor is the need to include hurricane-resistant plants.

It's not just plants and flowers the new garden will focus on. The hope is birds, butterflies, and other wildlife will flock to the area and bond with the visitors.

"It will bring individuals and families who can enjoy our natural environments together," said local Landscape Architect Ellin Goetz.

Goetz is working to make sure the garden reflects what the area is all about - peace, quiet, and nature.

"The combination of gardens and natural areas is really something you can't have too much of in our community. It will really be a great thing for us," said Holley.

The director of the Naples Botanical Garden says they hope to start construction in 2008 and open the new garden in 2010. They'll raise the $50-million through private donations and fundraisers.