Endangered Cactus in Dramatic Clifftop Rescue
CUBA
17 March 2006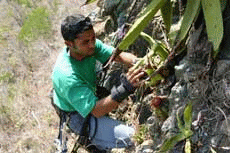 The Cuban National Botanic Garden has recruited 'extreme ecologists' to helo in a dramatic rescue attempt to save the Melocactus actinacanthus from extinction. Today, there exists only one adult specimen in its natural environment - up the sheer cliffs of a 468m mountainside. Amazingly, the cactus has seed.

Members of an ecologist sports group called Club Extremo were recruited to climb steep hillsides of the 468 metre Sierra Alta de Agabama in the Escambray mountain range —located in the central province of Villa Clara— to collect seeds of this unique species of the Cuban flora. They climbed 160 metres and then descended another 100m down a gorge to collect the cactus' seeds.

Adognis Sánchez of Club Extremo said "Due to the difficulty of access to it's habitat, the garden sought our help in photographing the plant and collecting its seeds."
After having spent several hours overcoming obstacles, Adognis and climbing partner Maykel were dumbstruck when they finally found the sought-after cactus. They observed it in silence, not wanting to disturb the precious vegetable specimen.
"You're the king of this mountain!" exclaimed Adognis, praising the prickly cactus that clung fast to a huge stone, as if it were battling not to be crossed off the botanical list of living species. "I thought it would be bigger," said Maykel at last, in a low voice, so as not frighten the plant, which had hardly been visited by a bird, insect, rain, or wind. The adventurers insatiably snapped pictures of the plant from different angles. Then, after several minutes, they decided to gently touch its smooth and beautifully green sides.
Although they caressed it timidly, the curved and sharp thorns pricked both men's fingers. Therefore, they took the tiny seeds very carefully and painstakingly wrapped them, as they knew their significance for the preservation of the species.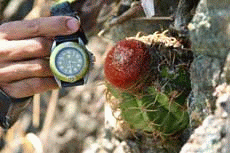 Club Extremo locate the endangered plant

The seeds were delivered to the National Botanical Garden where they will be planted and carefully grown.

Club Extremo has made other scientific contributions such as the study of Salto Fino located in the Sagua-Baracoa mountain range in eastern Cuba. The waterfall, 1,200 meters above sea level, is the largest waterfall on any island in the Americas.

The population of this cactus has been strongly reduced by amateur collectors and habitat destruction and has been the subject of a BP Conservation Award.