Faster Field Identifications Using Internet
CHINA
24 February 2006
From SciDevNet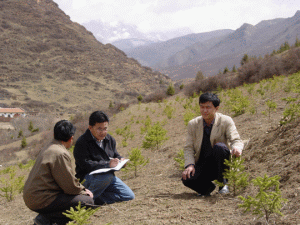 Chinese scientists can make faster field identifications
Chinese scientists have developed a system to help field biologists identify plant and animal species rapidly by sending images to experts over the Internet.
The system — approved by the Chinese Academy of Sciences (CAS) on 17 February — will assist researchers in fields such as biodiversity conservation, pest control and disease surveillance.
"This is not a breakthrough in a technical sense, but it combines different approaches to save the biologists time and allow them to be more accurate," says Ji Liqiang, a researcher at CAS.
"The system will let us decide quickly and cheaply whether there are new threats from pests or invasive species."
Ji says the system is easy to use and install in remote field stations. Field workers will use microscopes and video cameras capture images of species and transmit them over the Internet to biologists in other parts of the country.
These experts will have access to a comprehensive image database to assist in identifying species.