New Evolution Garden For Bristol
UK
5 April 2006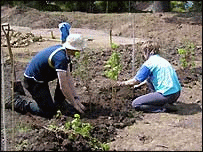 Work on the new garden will complete next year

From the BBC
The University of Bristol's new botanic garden opened to the public for the first time last Sunday.
The garden - which is not yet complete - is designed to reveal some of the mysteries of plant evolution.
It features four core collections: rare and threatened natives, evolution, Mediterranean plants and useful plants.
The University's old botanic gardens at Bracken Hill House closed in 2004 when the house - a student hall of residence - was sold to developers.
At the centre of the new displays, at The Holmes on the Stoke Bishop campus, will be a large pond filled with water lilies.
The edge of the pond will provide a habitat for native and threatened plants local to the Somerset Levels.
There will also be a rocky area, set back from the water, displaying rare plants from the Avon Gorge, such as the Bristol Onion and Spiked Speedwell.
Professor Sir Peter Crane, Director of The Royal Botanic Gardens, Kew and a specialist botanical advisor on the project, said: "It has been wonderful to follow the process of developing the new botanic garden.
"This is an important investment by the University that will not only enhance teaching and research, but that will also further enrich the city of Bristol for all its citizens."
Other botanic gardens, such as those at Kew and Edinburgh, will supply some plants.
The most "primitive" living flowering plant, Amborella trichopoda, has been sourced for the collection from New Caledonia.
It is expected the garden will be fully open to the public by summer 2007.