Butterflies Attract People To Garden
PHOENIX, ARIZONA
10 April 2006
From Jennifer Grimes , East Valley Tribune
Grace Stoll was on her way out of Phoenix's Desert Botanical Garden enclosure recently when one of the creatures on display jumped on her back.

"Get a picture," the Minnesota woman instructed her daughter, holding still. Moments later, another visitor was assaulted, then another and another . . .

Attacks have continued unabated inside the spring butterfly exhibit, an open-air enclosure at the garden, with victims numbering in the dozens, possibly hundreds. Yet there's been no publicity, no attempts to intercede and, apparently, no lawsuits. Visitors just keep coming.

"We get thousands of people. It's amazing. Butterflies are just natural attractants," says Melanie Day, a coordinator at the garden, where 1,000 or more of the fluttering, frilly creatures alight on trees, shrubs and the occasional human without incident.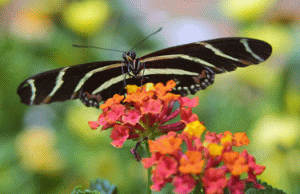 Tropical butteflies have huge public appeal

Now in its fifth year, the exhibit of 30 or more butterfly varieties has grown to be the garden's most popular, Day says.
The exhibit highlights the beauty and diversity of North America's butterflies. Visitors can see Giant Swallowtails, Great Southern Whites, Zebra Swallowtails, Queens, Julias, Painted Ladies and Malachites among others.
Friendly Garden volunteers, or "flight crews" are on hand to answer questions and share information about the butterflies and plants. There are special display areas featuring butterfly host plants and a Discovery Station where you have the chance to see our scaly-winged friends up close. The spring butterfly exhibit in the Marshall Butterfly Pavilion is presented by Wells Fargo with additional support from The Fred Maytag Family Foundation.

Butterflies simply transcend the "bug" label. They are colorful, fancy-free symbols of spring, youth and beauty. We sing about them, paper our walls with them, and, if you are Mariah Carey, tattoo our back with them.

"They are sort of ethereal," says Laurel Nixon of Ahwatukee Foothills, one of about 25 recent admirers in the enclosure. The mister-equipped screen tent, where benches are placed intermittently along the path, allows visitors to peruse butterflies up close — as opposed to the fleeting observations most of us are offered by nature, says Nixon. And the butterflies, knowing they're the show, oblige.

"They are little posers," she says. Twice every week, more are released into the enclosure, Day says; adult butterflies are shipped live, Federal Express overnight, from the Florida farms that breed them. Typically butterflies live two to four weeks, but "in here, they have no predators, so they could live longer," says Day. They feed on sliced oranges and Juicy Juice ("It's the diet of champions," says Day) and bask in the sun, but there's no procreation allowed. Butterflies need specific plants to breed, called host plants, and those were intentionally left out of the exhibit.

A single butterfly could lay hundreds of eggs. Also, the garden isn't licensed by the U.S. Department of Agriculture to breed butterflies.

The rules in the display are simple: No touching and no running (because of the potential of stepping on and squashing the attractions). The butterflies ignore the rules and touch people quite often. So much so, everyone leaving the exhibit is checked for stowaways.

Day says she loves the exhibit because of the peace and tranquility of it. "No matter how many people are in here. You can just sit and relax. . . . It's peaceful."

Planting a Butterfly Garden

• Place your garden in a sunny place. Butterflies are sun lovers and cannot fly until the sun's warmth heats their bodies.

• Plant shrubs and trees nearby. The foliage offers hiding places from predators and shelters butterflies from the wind.

• Group plants together. It will create a mass of color, which will help butterflies find your gardens.

• Provide rocks. Butterflies like to bask in the sun to warm up their wings and bodies for flight.

• Provide moisture. Butterflies extract water and minerals from damp soil.

• Don't use pesticides. They kill butterflies and their caterpillars.



Desert Plants that Attract Butterflies
Desert milkweed (Asclepias subulata)
Baja fairy duster (Calliandra californica)
Desert globe mallow (Sphaeralcea ambigua)
Goodding's verbena (Glandularia gooddingii)
Desert senna (Senna covesii)
Black dalea (Dalea frutescens)
Arizona passion flower (Passiflora bryonioides)
Ageratum (Ageratum corymbosm)