Earth Day Celebrations in World's Botanic Gardens
GLOBAL
20 April 2006
Since the first Earth Day in 1970 people around the world have sought to celebrate the planet through a variety of individual and community activities. But Earth Day is about more than observing the beauty and vitality of nature; it is also about renewing your commitment to saving our living planet.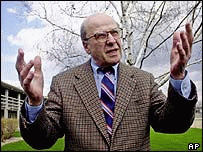 Gaylord Nelson, 1916-2005
Founded Earth Day in 1970 calling on the world to care for the environment
Image © AP

Earth Day was started in the US in 1970 by Senator Gaylord Nelson who felt that there was a lack of political support for environmental issues that the people were concerned about. He announced the first Earth Day as "a nationwide grassroots demonstration on behalf of the environment", and invited everyone to participate. And they did! Over 20 million people responded that first year. Now it has spread worldwide with all kinds of environmental groups spreading eco-messages.
Botanic Gardens are taking part in a multitude of ways around the world - here are a few examples of what's happening this April 22nd:
Simple Ways You Can Help Protect the Environment

1. Don't leave the water running. Turn off the water when brushing your teeth or washing the car. Fresh water is one of our most precious natural resources.

2. Flick off the light when you leave the room. Power plants burn fuels to create energy for your light bulb. Burning fuel makes carbon dioxide that adds to global warming. The less energy you use the less they need to make, and you'll save on your energy bill.

3. Print on both sides of the page at work. It's easy to change your printer settings - you'll use half the paper and save trees.

4. Wash your clothes in warm or cold water. It works just as well as hot in your washing machine and cuts back on energy use.

5. Ditch the paper cups. Bring in a glass to keep at work instead of using the paper ones by the water cooler.

6. Use the right settings on your appliances. Many appliances, like your dishwasher and refrigerator, come with energy-saving settings. Make sure they're turned on.

7. Turn off your computer at the end of the day. A monitor left on overnight uses enough energy to print 5,300 copies.

Tips Courtesy WWF