Mythic Figures Appear In Garden
GEORGIA, USA
26 April 2006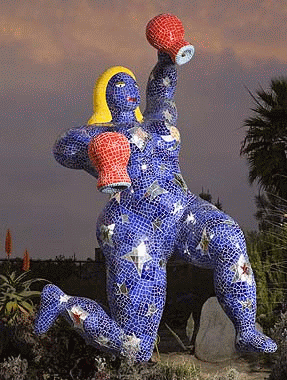 Star Fountain can be seen at Atlanta
Botanical Garden until October
Image © Philipp Scholz Rittermann

Opening April 29 2006, Niki in the Garden, will be the world's largest exhibition of internationally renowned artist Niki de Saint Phalle's outdoor sculptures ever presented. On the scale of Chihuly in the Garden in 2004, this spectacular exhibition features Saint Phalle's imaginative, monumental artwork beautifully displayed throughout the Garden for six months.

The magical and joyful works include enormous animals, mythical figures, totems, sports heroes and most famously her Nanas -- oversized, often dancing, powerful women celebrating life. These sculptures are brilliantly embellished with mirrors, glass, semi-precious stones and ceramic mosaics that come to life in all kinds of light. Massive in scale, some pieces reach as high as 18 feet and span up to 25 feet long. Many invite sitting, climbing or crawling through secret passages.

"We are launching an exhibition of one of most significant artists of the twentieth century," said Mary Pat Matheson, Executive Director of the Atlanta Botanical Garden. "The Garden is once again bringing an artist of international prominence to Atlanta, and Niki's sculptures integrated with the beautiful plant displays of the Garden will be dazzling, surprising and delightful."

The Garden is the ideal place for Saint Phalle's work to be displayed because of her love of nature. Two of her world famous sculpture gardens, the Tarot Garden in Tuscany, Italy and Queen Califia's Magical Circle in Escondido, California both emphasize the natural placement of her art among the elements. As she once described the Tarot Garden as a "meeting place between man and nature," this exhibition will strive to conform to her ideals. These whimsical, frolicking sculptures will undoubtedly delight Atlanta just as they have been delighting international audiences for decades.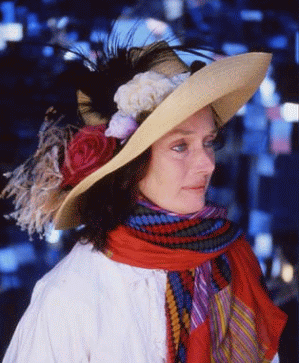 Niki de Saint Phalle in 1987. She rejected traditional roles to become a major avant-garde artist
Image © Giulio Pietromarchi

Unparalleled artist Niki de Saint Phalle was born in 1930 in Neuilly-sur-Seine, France and raised in New York City. Both an audacious philosophy and lifestyle created her stunningly innovative artistic style.

A passionately imaginative and self-taught artist, Saint Phalle rejected the traditional role of femininity and rigid social definitions in both her personal and artistic life. A founding member and only female involved in the Noveau Realisme movement, Saint Phalle met with prominent avant-garde artists like Christo, Yves Klein and Arman while she was in Paris. Her involvement with this new style of art and her interaction with other subscribing artists influenced her work from that point forward. She became a citizen of the world, sojourning in Asia, Africa and Europe to glean inspiration for the construction of her art.

Niki in the Garden is made possible by the Niki Charitable Art Foundation (NCAF), a non-profit organization committed to the late artist's ideals and the preservation of her legacy for future generations. "Niki was a force who needed projects," says Bloum Cardenas, Saint Phalle's granddaughter and also a trustee of the NCAF. "She had a huge drive throughout her life."