Environmentalists Honoured for Amazing Achievements
GLOBAL
3 May 2006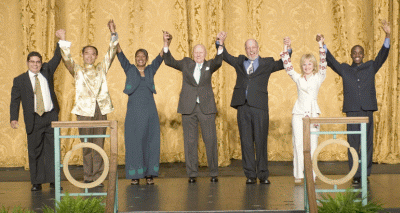 Grassroots activists celebrate success
This year's winners of the prestigious Goldman Environmental Prize have been announced.

Presented annually since 1990, the Goldman Prize is valuable because it focuses not on the usual suspects—well-known greens already weighted down with honorary degrees and stipends—but on unknowns who fight on the frontlines around the world. The work of Goldman Prize winners often focuses on protecting endangered ecosystems and species, combating destructive development projects, promoting sustainability, influencing environmental policies and striving for environmental justice. Prize winners are often women and men from isolated villages or inner cities who chose to take great personal risks to safeguard the environment.

This year's exceptional people include:
Silas Kpanan'Ayoung Siakor, 36, Monrovia, Liberia:
Siakor exposed evidence that former Liberia President Charles Taylor used profits of unchecked, rampant logging to pay the costs of a brutal 14-year war. Such evidence – collected at great personal risk to Siakor – led the United Nations Security Council to ban the export of Liberian timber, part of wider trade sanctions that remain in place today.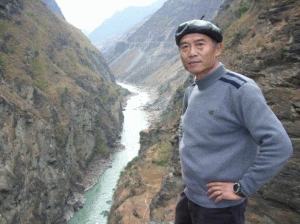 Yu Xiaogang has prevented devastating
dam construction in China
Image © Tim Dusenbery
Yu Xiaogang, 55, Kunming, China:
Yu, 55, created the Lashi watershed project after writing a social impact assessment on the effects of a dam built at Lashi Lake for his Ph.D. thesis.
His work led to a campaign involving residents, the local government authorities and private entrepreneurs to rebuild the area, which today is acclaimed as one of the top 10 sustainable developments in the country.
He is now working to prevent similar devastation elsewhere, including The Three Parallel Rivers dam project. The Three Parallel Rivers and surrounding watersheds are a World Heritage Site, the epicenter of Chinese biodiversity containing virgin forests, 6,000 species of plants and 79 rare or endangered animal species.

Tarcísio Feitosa da Silva, 35, Altamira, Brazil:
Feitosa led efforts to create the world's largest area of protected tropical forest regions in a remote, lawless region in northern Brazil threatened by illegal logging. Despite death threats, Feitosa worked with local organizations to create protected lands for local residents and exposed illegal logging activities to the Brazilian government.
Anne Kajir, 32, Port Moresby, Papua New Guinea:
Kajir uncovered evidence of widespread corruption and complicity in the Papua New Guinea government, which allowed rampant, illegal logging that is destroying the largest remaining intact block of tropical forest in the Asia Pacific region. In 1997, her first year practicing law, Kajir successfully defended a precedent-setting appeal in the Supreme Court of Papua New Guinea that forced the logging interests to pay damages to indigenous land owners.
Get the full story...