Hard Rain at the Eden Project
UK
15 May 2006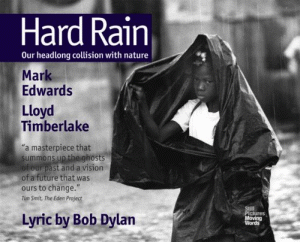 Exhibition of pictures from Mark Edwards' book will
go on show at the Eden Project on 24 May

The open-air exhibition Hard Rain presents a series of unforgettable and sometimes disturbing pictures accompanied by Dylan's prophetic lyric written more than 40 years ago.

Most of the photographs are from the personal archive of London-based photographer Mark Edwards, who first had the idea of illustrating the apocalyptic imagery of the song when he was lost on the edge of Sahara Desert in 1969. He was rescued by a Tuareg nomad, who led him to safety, made a fire, then produced a cassette player and played the Dylan masterpiece.
As the song unfolded, Mark Edwards was struck by the idea of illustrating each line with a photograph. In the years that followed, he took pictures of his travels through more than 150 countries.
The resulting collection reinterprets Dylan's classic song as a powerful commentary on climate change, environmental collapse and global poverty. It is an urgent appeal to world leaders – and all citizens – to act responsibly to sustain all of humanity, while also sustaining the planet.
The pictures are to be displayed on a spectacular 40-metre outdoor canvas – the first reportage exhibition of its kind – near Eden's new £15 million education centre, The Core.
The images are featured in a new book Hard Rain, Our Headlong Collision with Nature, just published by Still Pictures Moving Words.
Tim Smit, Eden's chief executive, said: "This disturbing, powerfully-moving work is a masterpiece that summons up the ghosts of our past and a vision of a future that was ours to change."
The exhibition panel ends with the following message from the book's authors:
"Most of the planet's ecosystems are failing. Global warming and habitat degradation threaten countless species. More than one billion people live in absolute poverty. 1.7 million children die each year from preventable diseases. Environmental and human poverty reinforce and feed off one another.

Yet we do little or nothing.

We need our leaders to be visionaries who can see the real threats and explain them to people, build coalitions, and lay out solutions. Such leadership is non-existent today. Hard Rain is an urgent appeal to world leaders – and every one of us – to act responsibly to sustain all of humanity, while sustaining the planet."