No Messing at National Botanic Garden
IRELAND
19 May 2006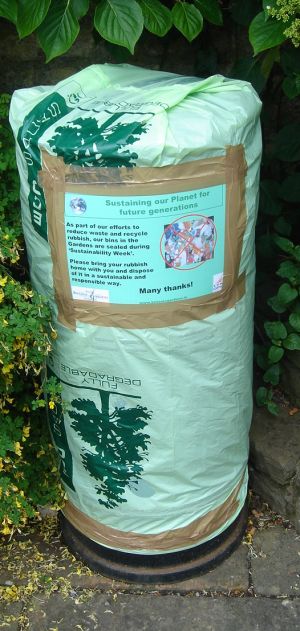 Rubbish is to be banned for a week at the National Botanic Gardens of Ireland in Glasnevin.
As part of a week-long event promoting environmental sustainability, all the rubbish bins in the National Botanic Gardens are being sealed, with visitors encouraged to take their rubbish home with them for recycling.
Each year visitors leave hundreds of tons of rubbish at the National Botanic Gardens – damaging to the environment and costly for the Gardens to recycle.
In Ireland and throughout the world there is increasing realization of the urgent need to care for our environment, to sustain it and natural resources for future generations. This includes all the efforts made to reduce, recycle and reuse waste, conserve energy, as well as conserve threatened plants and animals and their habitats.
The innovative 'Sustainability Week' event begins at the National Botanic Gardens, Glasnevin on Saturday 20 May.

During the week, efforts made by the National Botanic Gardens and its entire staff to promote environmental care, recycling and biodiversity conservation will be showcased for visitors.
Highlights of the week include:
Glasshouse demonstrations of environmentally-friendly ways of encouraging wildlife in gardens and children's educational displays.

A 'sustainability tree' will be covered with leaves where visitors can make their own pledge on what they will do to support sustainability in their own homes and lives.

A display of living plants outlining the environmental cost of major crop plants such as cotton, bananas, coffee, tea and sugar.

Information on how the Gardens are reducing their use of chemicals in horticulture, managing glasshouse pests in an environmentally-friendly way, cutting back on energy consumption and reducing reliance on peat, a dwindling natural resource.

Displays of some of the most critically endangered plant species conserved in the Gardens' collections.
The Gardens' exhibition 'Jurassic Bark' on the Evolution of Plants also continues during the week. It includes displays of ancient 'living fossil' plants and remarkable fossil specimens from the Geological Museum of Trinity College Dublin. There is also the educational display about the Irish Sea Stock plant that is extinct in the wild and the subject of a conservation initiative to re-establish it.

The week will include special events such as composting demonstrations to show the best ways to compost organic waste at home, and guided tours, including one given by the Director, Peter Wyse Jackson.
For more information please visit the National Botanic Garden website