Another Step Forward for GSPC
SOUTH AFRICA
22 May 2006
As signatory to the CBD (ratified on 2 November 1995), South Africa has committed itself to the implementation of the Global Strategy for Plant Conservation and has been closely involved in the development of the GSPC targets, mainly through participation in international meetings and workshops leading up to the adoption of the GSPC by the CoP in The Hague, Netherlands, in 2002.
This has now culminated in the release of South Africa's response to the GSPC, which is available online as a series of PDF downloads.
The institution that has done most work in relation to plant conservation in South Africa is SANBI and its predecessor, the National Botanical Institute (NBI), a parastatal organisation falling under the national Department of Environmental Affairs and Tourism (DEAT). Strongly supported by and in close partnership with the Botanical Society of South Africa, a national nongovernmental organisation established with Kirstenbosch in 1913, SANBI has contributed significantly towards an improved understanding and conservation of South Africa's plant diversity.
South Africa is internationally renowned for its floristic diversity and high percentage of plant endemism. Some 21,721 plant taxa have so far been recorded as being indigenous to South Africa, including 862 bryophytes (mosses and liverworts) and 279 pteridophytes (ferns). More than half (13,192 taxa) of South Africa's indigenous plants are considered endemic, being restricted entirely to the country and found nowhere else in the world.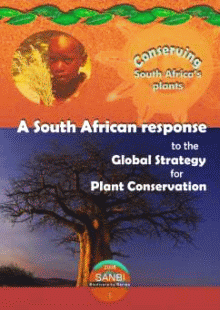 The number of plant taxa recorded for South Africa is not static and continues to change, mainly as a result of new discoveries and taxonomic/systematic research. In the 10-year period between 1994 and 2004, more than 268 new species of South African plants were described by research staff attached to SANBI's three herbaria in Cape Town, Pretoria and Durban.
The South African response to the GSPC is now available for downloading via the SANBI web site: Conserving South Africa's plants: a South African response to the Global Strategy for Plant Conservation. SANBI Biodiversity Series 1. South African National Biodiversity Institute, Pretoria.

Visit BGCI Africa